Napa Valley luxury homes come in all sizes and styles. In the Sonoma Valley, home sizes tend to be significant, and the real estate market creates opportunities for new homebuyers to own some of the most beautiful homes in Wine Country. No matter your goals, it's essential that you get to know the real estate market in both of these beautiful locations if you hope to buy. A part of that is getting to know the area's finest amenities, the gorgeous neighborhoods, and the wineries!
One step in that direction is to work with an experienced
Napa Valley real estate agent
. They'll take all of your wants into consideration, from architectural style to amenities, and help find you a home that's a perfect fit. So let's take a closer look at some of the home styles and trends commonly found in the luxury properties in this area. We're confident they won't disappoint.
Homes that bring the outdoors in
One of the most common styles of homes in Napa and Sonoma Valley allows you to experience all of the outdoor beauty and wonder of the area right from your living room. These homes easily transition between the indoors and outdoors, and with a few steps, you'll feel as though you are standing in the heart of the valley. There are a few ways they do this:
Many floor-to-ceiling windows allow for impressive views while sliding glass doors make it easy to step outside whenever you desire.

Extensive outdoor living spaces are also common here. Expect to find Sonoma homes with prime outdoor seating areas, including large stone patios with elegant decor.

Incredible picture windows also help. These, along the front of the home, typically give homeowners plenty of natural light. They can also provide a wide range of views from the comfort of your living space.
Old meets new
Another big style trend in the
luxury homes in Sonoma
and Napa Valley is the unique mixture of old and new. That's not to say the homes here are outdated, as most are well restored and carefully maintained. Instead, many homes have beautiful features created with tradition in mind. Some examples of the homes for sale today may include:
Farmhouse charm is a prevalent style in this area. You may notice this more heavily on properties with more land. An old farmhouse or barn can be easily transitioned into a beautiful, rustic home.

Stone is another common feature. Many homes have exteriors made of natural stone or brick, making it a truly unique piece of architecture. And while it may seem a bit old-fashioned to those who live anywhere else in California, it's very common in Napa Valley to see natural materials on the exterior (and interior) surfaces.

Large, open gathering spaces are another key feature. Architects have built large living rooms with high ceilings into the home. These characteristics are a major highlight in many properties for large families or friends to gather.
Sprawling estates
The sheer magnitude of many homes in Napa and Sonoma is another breathtaking feature that coincides with luxury real estate in the region. Many of them are estates rather than single-family homes and offer high prestige in the Valley. They are the perfect blend of natural elements and mountainside homes. The key to owning an estate-like home is having a large amount of land. However, keep in mind that the area's rolling hills and open valleys only make this possible in some neighborhoods and not others. Here are a few things you may notice:
Homes tend to have ample frontage. They are set further back from the road to ensure privacy for the homeowners, especially those who want a more exclusive getaway.

Many estates are gated. That also helps with privacy and security, but it is a distinguishing feature that many people seek out as a defining characteristic of "luxe living."

These estates tend to have large pools, elegant gardens, and spas. They may have large fountains out front and dozens of rooms to call your own. There's little doubt that these are impressive properties with so many amenities.
Versatility and blending of architectural styles
There are numerous components to the architectural style of Napa Valley. Some happen to be prevalent styles, including Colonial Revival and Classical Revival homes. You may also find craftsman shops as well as
large ranches
. What's for sure, however, is that a blending of architectural styles often occurs here. Many luxury homes blend various techniques to create a beautiful look and level of function that may not be common in other areas. Some examples are:
Looking for materials that harmoniously blend, often including (and especially) wood and stone. These styles are very prevalent.

Homes tend to have a mix of interior features that lend themselves to Colonial-style properties with rustic elements.

You may also notice architectural columns, beautiful brickwork, and other designs influenced by Spanish architecture and modern elements.
Blending the traditional and modern
For those looking to buy a Sonoma Valley luxury home that provides the modern amenities they desire, there are plenty of options available to do that as well. Many
homes in the area
, even some of the older properties, offer a nice blend of old-world charm and modern conveniences. This is growing in commonality throughout the region, making a statement in the real estate market. Examples of this include:
Solar technology is becoming more prominent in the Valley. Nowadays, it's not uncommon to see estates that are 60 years old installing solar panels.

Modern lap pools and lavish infinity edge pools are growing in popularity.

Smart home technology is also gaining traction here. More property owners install modern technology to ensure their homes are easy to manage and energy-efficient.
Abundant wineries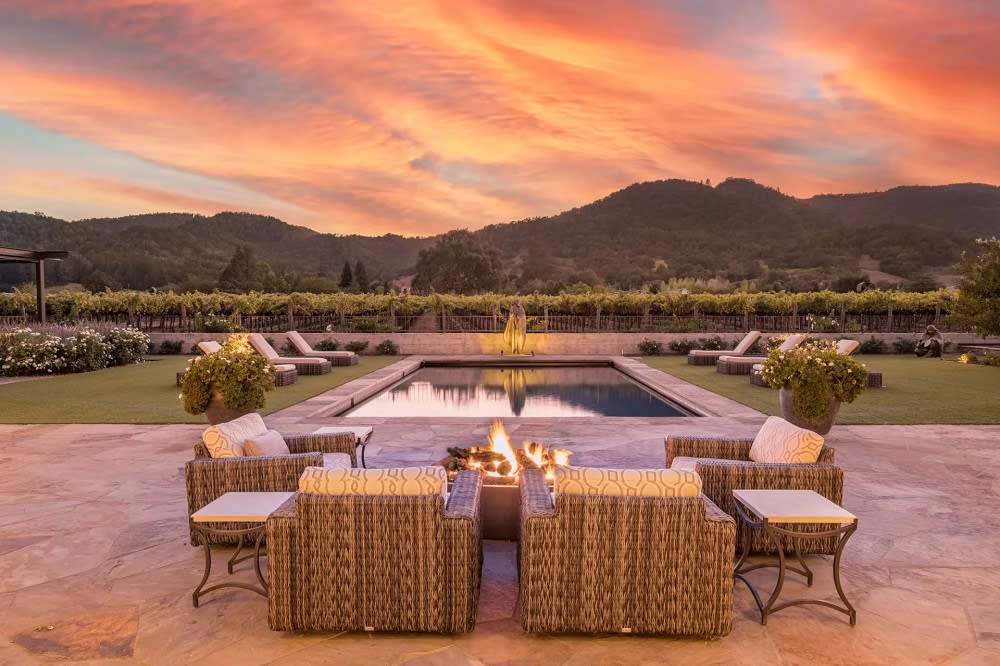 It's certainly possible to purchase a home within the grounds of a winery. It's also possible to buy a home that has a winery view. There are endless opportunities in the Napa and Sonoma real estate market, from beautiful vineyard views to the fresh scent of grapes on the vine. A few things you may notice about these properties include:
Ample green space, sometimes packed with vines, in these areas. If you've longed to grow your own grapes, it's easy to do here.

Some properties have transitioned failed wineries into lavish gardens and open living spaces. These are some of the very best homes for those who want land.

It's still common to find properties that offer traditional wineries without all the excess. Not all properties make you live with machinery and wine production elements in your backyard.
Custom properties with exceptional features
With some digging, it's feasible to find almost every home style in Napa and Sonoma Valley. Custom-built homes are becoming more common in this region, each with individualized features that make them truly a one-of-a-kind oasis. You may find exciting new technology or older homes with brick courtyards and lush gardens. A few other styles you may see in these regions include:
Custom homes built side-by-side in a traditional neighborhood.
Two-floor mansions with luxurious features and open floor plans.
Highly functional homes that feature dedicated spaces for hobbies and professions.
Explore the Napa Valley real estate that's right for you
At
Ginger Martin and Co.
, real estate is our passion. When you decide to move to Napa or Sonoma Valley, you're creating a new lifestyle, one of luxury, relaxation, and adventure. The experienced real estate agents at Ginger Martin can help you locate the very best home for you — we're confident you'll love what you find!
Contact us
today to learn more.