Napa Valley is known for its wine production, picturesque landscapes, and world-renowned restaurants. People from all over the world travel to get a taste of the Napa Valley lifestyle, and because of that, there are many unique places you can stay to make your trip truly one to remember. In Napa Valley, there's something for everyone, from top-rated hotels in wineries to bed-and-breakfasts hidden in historic buildings. So if you want a truly unforgettable visit, read on to learn about nine unique places to stay in Napa Valley.
Napa River Inn
First is the
Napa River Inn
, a Michelin-rated hotel that's part of Napa's vibrant Waterfront District and nestled on the banks of the Napa River. It offers stunning views of the water and is within close proximity to a variety of amenities, perfect for guests to walk to world-class restaurants, wine bars, and boutiques. The inn features 66 guest rooms, each with its own unique feel and decor. It also has a private deck overlooking the river and a garden where guests can relax, mingle, and sip on some of Napa Valley's best wine.
Under the same roof at the Napa River Inn, History buffs will love staying in the renowned Napa Mill, which used to be a flour mill and is now a beautifully restored bed-and-breakfast. Of course, wine tastings are standard here, given Napa Valley's wine country status. Still, the Mill also offers a variety of other activities, including visiting the market, a S
weetie Pies Bakery
, and theater performances nearby.
Bardessono
Bardesson
o is a unique, luxurious hotel located in Yountville. It's the only hotel in America certified LEED Platinum, meaning it has met the highest possible environmental design and construction standards. What makes Bardessono even more remarkable is its focus on sustainability and its use of natural materials throughout the property.
Due to its close link to nature, Bardessono is the ultimate spot for relaxation. They have pet-friendly rooms, a heated outdoor pool, and complimentary bicycles for guests to use. And their restaurant,
Lucy
, is one of the best in the valley. As soon as you enter this exceptional resort, it will feel like you are at a spa getaway. With calming fountains, round wooden floors, and peaceful gardens, Bardessono is where you can truly get away from it all. Their spa services are some of the best in the valley, and they offer a variety of yoga classes to bring out your zen.
Andaz Napa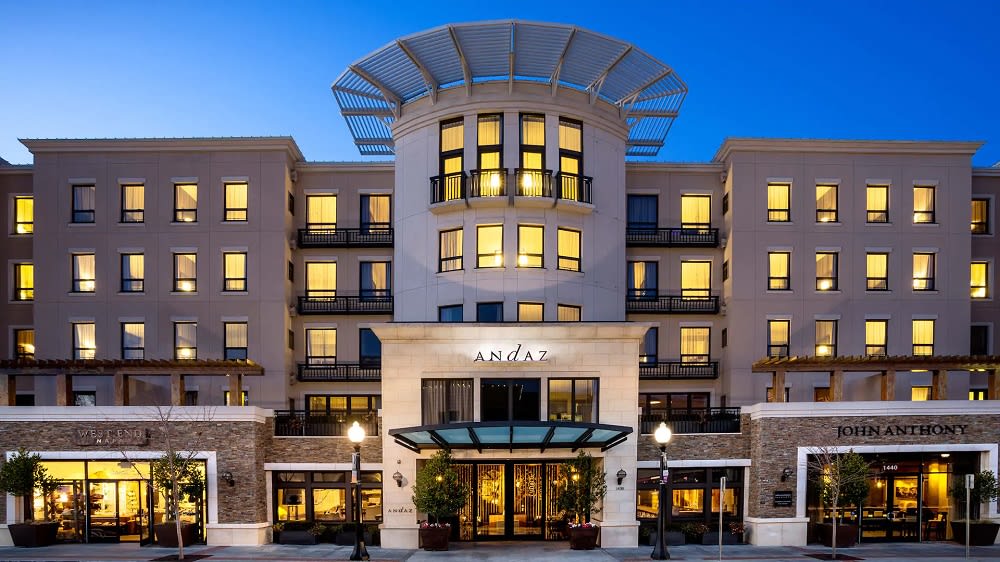 Next on our list is
Andaz Napa
, located in the heart of Downtown Napa. This Hyatt creation offers stunning views of the Napa River and the surrounding hills. It's a beautiful spot for guests who want to explore the various world-class restaurants, wine bars, and boutiques downtown. This magnificent hotel has 141 guest rooms and suites, including marble bathrooms and floor-to-ceiling windows to create the ultimate luxury getaway.
Andaz Napa is the perfect place for visitors looking for a refined and centrally located hotel. If you're looking to spend a night close to home, celebrate farm-to-table dining at the hotel's acclaimed restaurant in a rustic-chic setting. Andaz Napa is well-known for its extensive conference rooms, perfect for business meetings or events.
White House Napa Valley Inn
The
White House Napa Valley Inn
is a bed-and-breakfast housed in a beautiful historical building that strangely resembles the White House. It was built in 1885 and features Victorian architecture, and has several lavish amenities like breakfast, spa services, and private grounds with a pool and hot tub. The rooms are equipped with high-end amenities, all of which you can order online through their website to bring home.
Yoga classes are hosted seven days a week on the property, making it the perfect place to stay if you want to relax and rejuvenate. The inn also has an art gallery on-site, rotating monthly with new pieces from local Napa Valley artists. If you're both a wine and art lover, there's no better place to stay in Napa Valley than the White House Napa Valley Inn.
Meadowood
Meadowood
is a private, intimate resort located in St. Helena, CA. It's known for its Michelin-starred restaurant, exceptional wine cellar, and an award-winning spa. So if you're looking for an all-inclusive resort with world-class amenities, there's no better place than Meadowood.
The resort has a village-like feel with 250-acres of lush gardens, forests, and meadows. Couples can take a horseback ride through the property, relax poolside, or enjoy a couples massage at the spa. It's highly thought of as one of the most romantic places to stay in Napa Valley. The nine-hole golf course is also a significant draw for visitors. Wine lovers will love visiting the Wine Center — a wine cave that offers tastings from some of Napa Valley's top wineries. Meadowood is truly a one-of-a-kind resort with its unique blend of luxury and relaxation.
Poetry Inn
Next up is a quaint inn located in the picturesque hills of Napa Valley that's known for its award-winning wine list and romantic setting.
The Poetry Inn
, perched on a hilltop overlooking the valley with stunning views of the vineyards and mountains, has something for everyone. From hot air balloon rides to wine tastings, it's the perfect place to unwind and take in the natural beauty of Napa Valley.
At the Poetry Inn, you can enjoy a hike in the Rector Reservoir Wildlife Area grounds, then retreat to the full-service spa for a treatment. The inn also has an on-site restaurant that offers fresh, seasonal cuisine. The secluded location and luxurious amenities make the Poetry Inn one of the most romantic places to stay in Napa Valley.
The Meritage Resort and Spa
The Meritage Resort and Spa
is a beautiful, Tuscan-style resort. It's known for its award-winning wine list, highly rated spa, and world-class restaurants and has 417 rooms and suites to make it the ideal location for large groups or families to stay.
In terms of size and amenities, the Meritage Resort and Spa is one of the largest resorts in Napa Valley. The property is home to multiple restaurants, bars, and lounges. They host comedy events, brunches, trivia days, cooking classes, and much more. With the number one rated spa in Napa Valley, the resort is perfect for anyone looking for a spa-like retreat. From massages, facials, and body treatments, there's no better place to relax.
Auberge du Soleil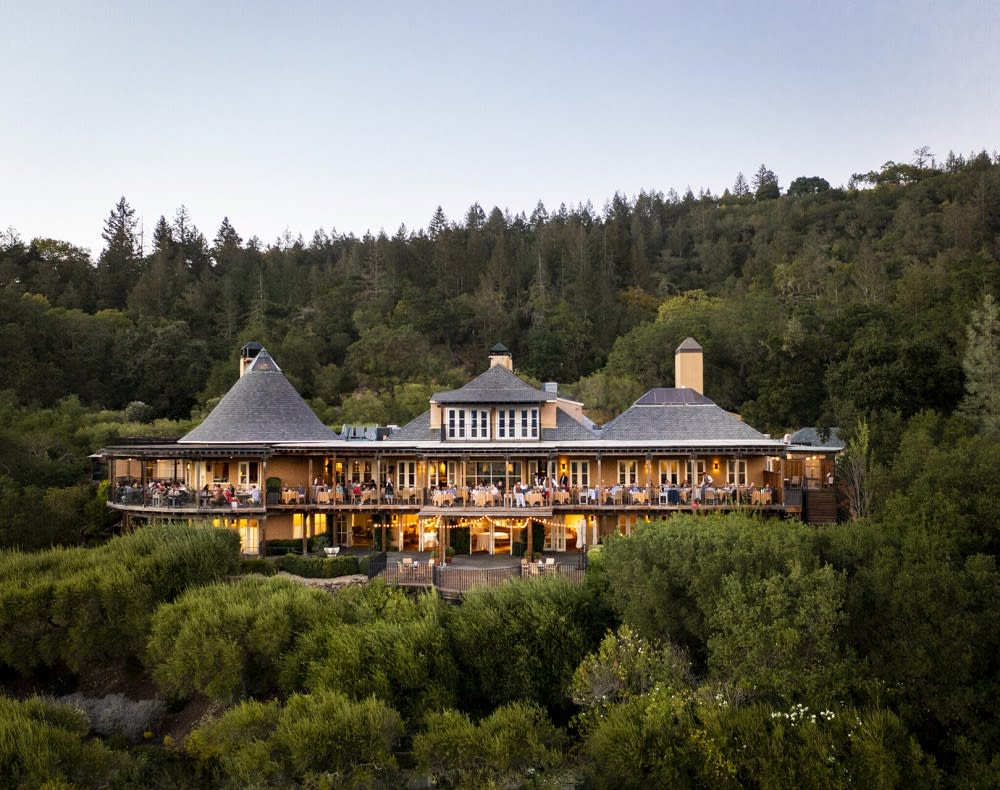 Translated to mean "lodge of the sun,"
Auberge du Soleil
is a luxurious, all-inclusive resort nestled on a sun-kissed hillside with spectacular vineyard views from almost every room. Here, you'll find award-winning restaurants, world-class wine lists, and an unforgettable setting that will bring you back again.
Each of the 50 rooms, called "Maison," comes with a private terrace, fireplace, and soaking tub. Set on 22 acres of land, the Auberge du Soleil features panoramic views of the valley and picturesque vistas of the mountains. The property has a restaurant where executive chef Robert Curry helms a tight ship. He has access to over 15,000 curated wines to pair with his dishes to provide the best restaurant experience possible.
The Vintage Inn
The Vintage Inn
is a beautiful bed-and-breakfast located in Yountville. The charming French country-style inn is in a vibrant, lush garden setting and has 80 rooms and suites, all of which come with private patios or balconies. It's an excellent place for couples and wine tasters to stay, as it's within close proximity to many world-class vineyards. With sprawling 23-acres of land, every guest will enjoy the marvelous valley and mountain views.
The Vintage Inn is known for its delicious breakfast, which is included in the price of your stay. They serve everything from eggs Benedict to croissants, all to be washed down with fresh juice. Whether you're honeymooners touring Napa Valley or wine connoisseurs, the Vintage Inn is an unbeatable locale.


Napa Valley is a fantastic destination for every vacationer, with plenty of unique places with their own charm and quirks. Whether you're looking for a romantic getaway in the valley or a historic hotel in Downtown Napa, this wine-famous area has something for everyone.


Besides the award-winning wineries and restaurants, Napa Valley is also home to some of the most beautiful scenery in the world. With its rolling hills and lush vineyards, it's easy to see why the area is so popular. If you're looking for a more permanent place to stay in Napa Valley, the team at
Ginger Martin
is here to help. We are passionate about finding properties tailored to your wants and needs.
Reach out
to us today to get started.