The start of the New Year is the perfect time to organize your life and get rid of all the clutter. Professional organizers and "clutter busters" are all the rage these days, with Oprah and even Donald Trump singing the praises of clutter gurus. Follow these simple tips to keep clutter at bay and keep your home looking effortlessly organized like a superstar!


1) Clutter concentration
To our subconscious mind, clutter can leave us feeling stuck. Figure out the most cluttered spaces in your home and reclaim that space! Once you get rid of that dead energy in your home, you will be surprised at how it moves your entire life! Start by sorting items into three categories: "Throw Away," "Give Away" and "Keep." If you haven't used it in a year or more, it's time to get rid of it.


2) Corners
Corners can zap the life energy, or Ch'i, from your environment. Plants, artwork, and flowing water fountains can move the energy of your corners and bring your entire living environment to life! Allow your intuition (and your designer or clutter guru) to guide you toward the perfect solutions that will redirect the dead energies into more harmonious, peaceful and joyful spaces.



3) Organize your jewelry with built in dividers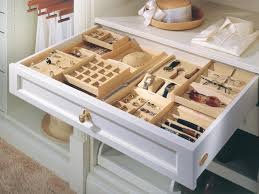 Start by creating your own personal signature style.
It will be easy to move forward with your closet (and your life),
after you've figured out that piece of the puzzle. Make sure you take
care of your designer wardrobe. Proper clothing care calls
for appropriate hangers: satin padding for more delicate
items and sturdy wood hangers for tailored jackets.
Make sure your accessories and shoes are organized in
a visible space. What good are those diamond earrings
if you don't even know you own them and have placed
them out of sight?
Photo Source: villaranrodrigo.us


Follow these tips from luxury celebrity closet organizer, Melanie Fascitelli, of Clos-ett. Her clients include A-list celebrities from Beyoncé and Jay-Z, to Drew Barrymore and Liv Tyler. Melanie has also designed a line of storage solution products called Clos-ette Too, written the ultimate closet guide book entitled "Shop Your Closet: The Ultimate Guide to Organizing Your Closet with Style", and transformed countless dressing room spaces around the world.



Findmyorgaizer.com offers a comprehensive list of professionals in the Napa Valley area that can help you organize your life like a celebrity.

Meantime, If you are looking for a new home in Napa Valley, or are contemplating selling your estate in this area, please be sure to take a look at my comprehensive website. I can be reached at 415.516.3939 or via email at Ginger@GingerMartin.com.
Header Photo Source: hgtv.com