There is no better combination of luxury and environmental consciousness than that exemplified in this Napa Valley vineyard estate. Lying adjacent to one of Domaine Chandon's most exclusive vineyards, and set on 23 acres of quintessential Napa Valley land, this property is unparalleled in both its unique nature and forward-thinking sustainability.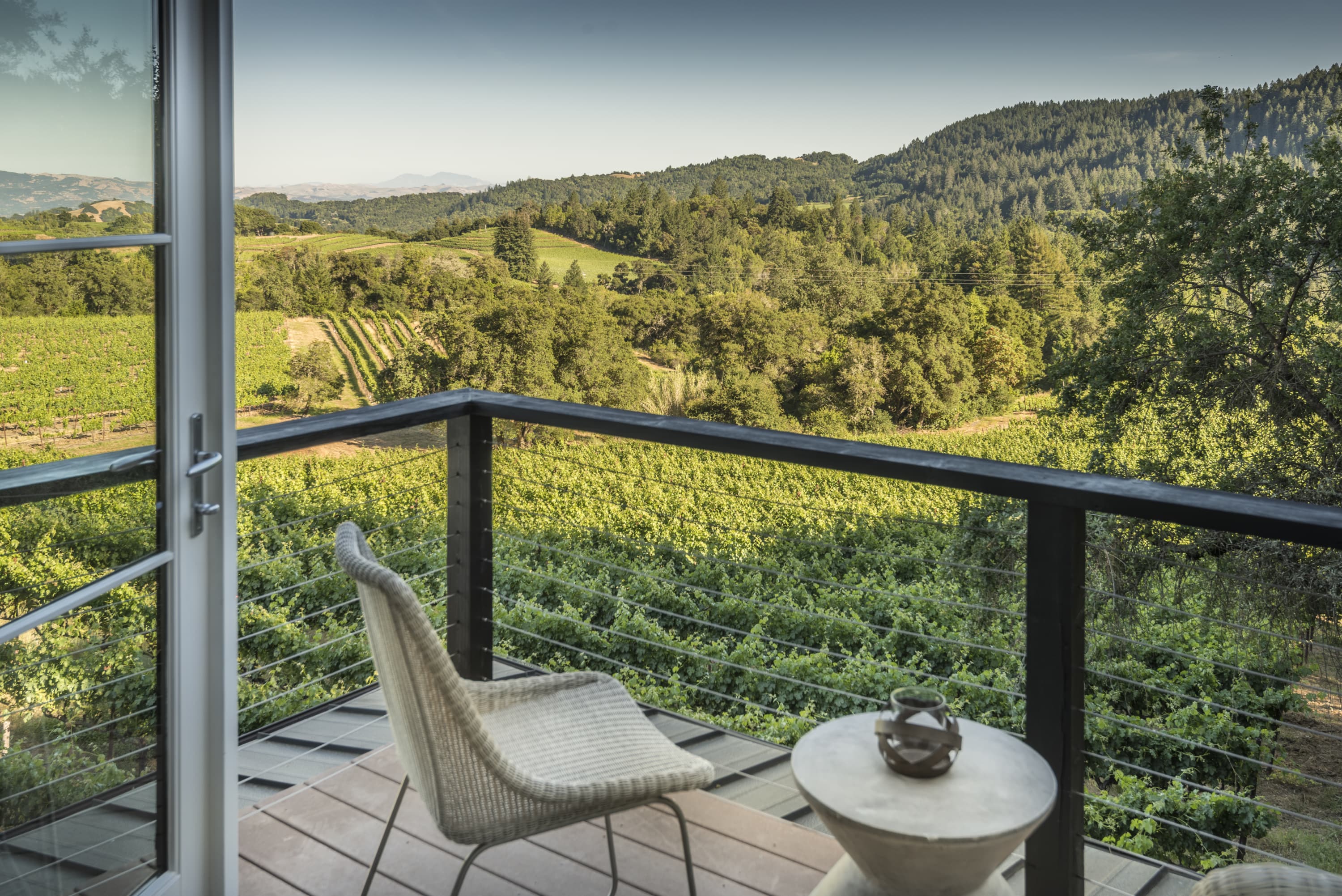 Boasting an open floor plan, and encapsulating the perfect balance of indoor/outdoor living, this Napa Valley home comes complete with a sparkling pool, outdoor kitchen and a wine cave. Breathtaking greenery surround this compound, and the interior design is inspired by true California living, with airy rooms, wood accents, and large windowsletting in natural, bright light.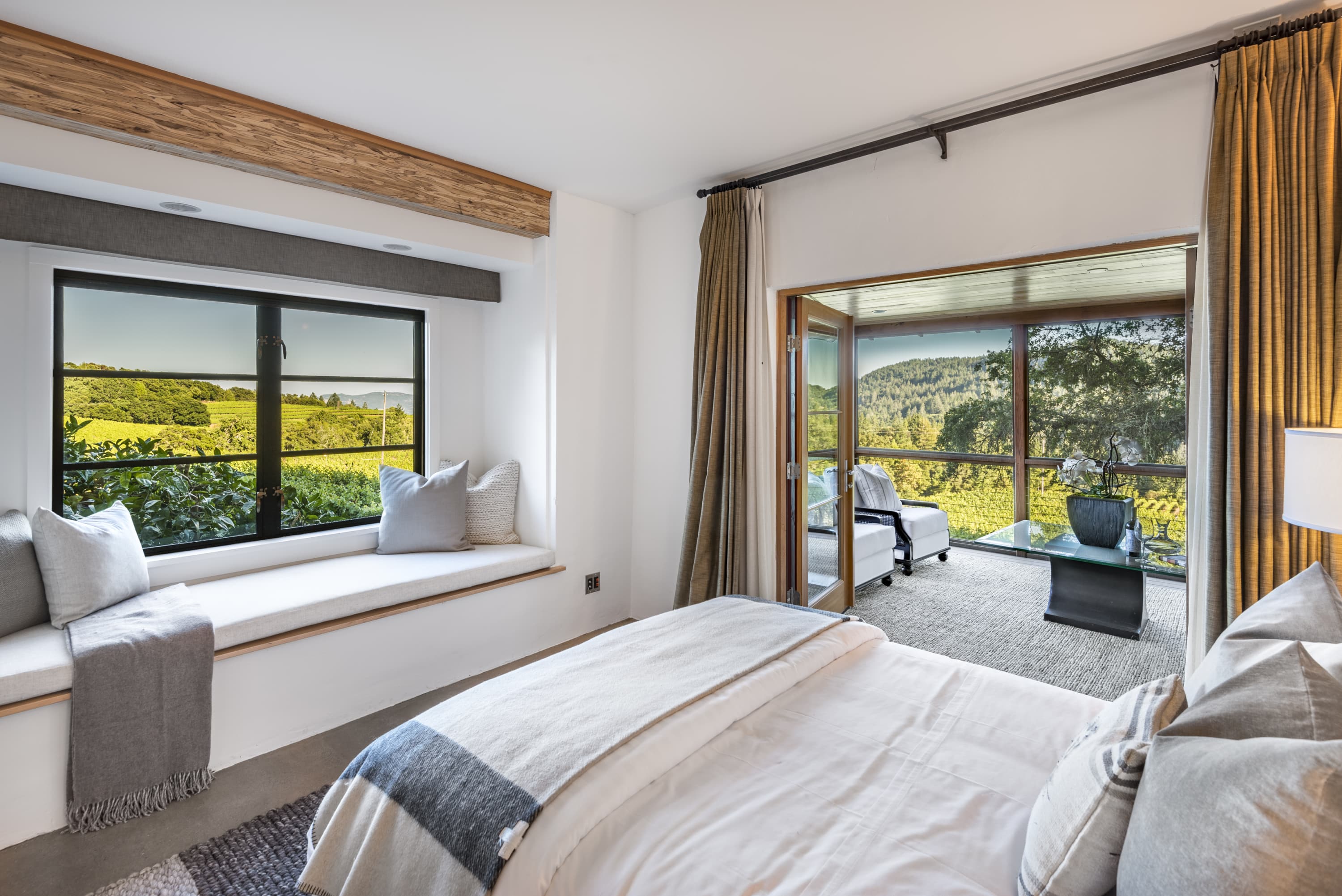 This home defines sustainable living, including passive solar and wood heat, water and sand heat storage, and insulated, high thermal mass walls.


What makes this a green home?
This home is completely energy efficient. It uses renewable energy sources, passive solar and wood with heat pump backup.

You've heard of global warming? This is a home design that does its part to reduce it. It is designed with eaves and a veranda overhang that let more light in when the sun is low in winter and less light in when the sun is high in summer. The architects actually put a 3D model of the house on a PG&E simulator to capture the shadows that would be on the house throughout the year. The house construction uses Tri-D panels with a 4" Styrofoam core and 4" of cement/plaster on either side of the core to create a high thermal mass building with insulation as well. This construction method cost more than 2x what simple stick frame with stucco construction would have cost.

The thermal mass averages the day and night temperatures passively producing a comfortable ambient temperature most of the year with little or no heating or cooling by the mechanical system. Additionally there is a 3 ft. thick sand bed thermal reservoir under the great room that is heated by the sun in the winter months. It keeps the main floor warm and stabilizes the temperature there. There is no forced air heat producing noise and blowing dust around. This is consistent with the quiet and pristine air of the outdoors at this site.


When heat is needed a 250 gallon thermal storage tank of water that is heated by solar panels in the sun
during the day is used to supply radiant heat to the floors. During prolonged winter low light conditions the fireplace is used to heat the great room as well as water in the storage tank. The masonry fireplace designed in Canada takes several hours to heat but, because of its high thermal mass takes a day and a half to cool down keeping the great room temp warm and stable. In my opinion the ambient thermal comfort of this home is a major highlight second only to its views. Then there is the cave which stays at 59°-65°F, ideal for wine aging, the whole year with no heating or cooling at all. It's very cool (actually warm) to go into the cave when it is 35°outside and its 60°F in the cave.


Another green aspect of this home is its use of recycled materials. The counter tops throughout the home are
made of recycled glass materials which actually cost more than granite. Many of the doors are recycled,
stripped and refinished old redwood, etched glass, interesting shapes. The office desktop and the kitchen island
top are made from an old bowling alley.