Napa Valley has plenty of luxury accommodations, but if you're searching for the newest, poshest amenities, look no further than the Auberge Resorts Collection. Whether you plan to spend your vacation in a spa, a restaurant, or a pool with a view, either Auberge du Soleil or Solage will take your Napa Valley escape to another level.
Auberge du Soleil
If you're seeking the quintessential Napa Valley experience,
Auberge du Soleil
is the location for you. Nestled in the heart of Napa Valley, Auberge du Soleil originated from the dream of French restaurateur Claude Rouas. It all started in 1981 when Rouas and his business partner opened the doors to Napa Valley's first fine-dining restaurant. This restaurant was thoughtfully designed to infuse the taste of Provence into California wine country.
Auberge du Soleil (which translates to "The Inn of the Sun") is Rouas' spectacular luxury resort that opened five years later. The 'inn' is situated on a terraced, sun-kissed hillside amid 33-acres of heritage olive and oak trees. The hotel comprises 50 contemporary guestrooms and suites, all of which perfectly blends sophistication with vineyard chic. Each of the guestrooms and suites is housed in mansions named for towns in the south of France—evoking the sleek sophistication of Provence with the seamless addition of elite residential interiors. Guests have plenty of
lodging options
to choose from, including private mansions, deluxe rooms, classic suites, and more.
The Auberge du Soleil Spa
delivers treatments customized to guest preferences. The idyllic Spa courtyard is characterized by olive trees and a tranquil centerpiece of three stone basin fountains, perfectly aligned with Mount Veeder in the distance. The Auberge du Soleil Spa is exclusively reserved for guests of the hotel.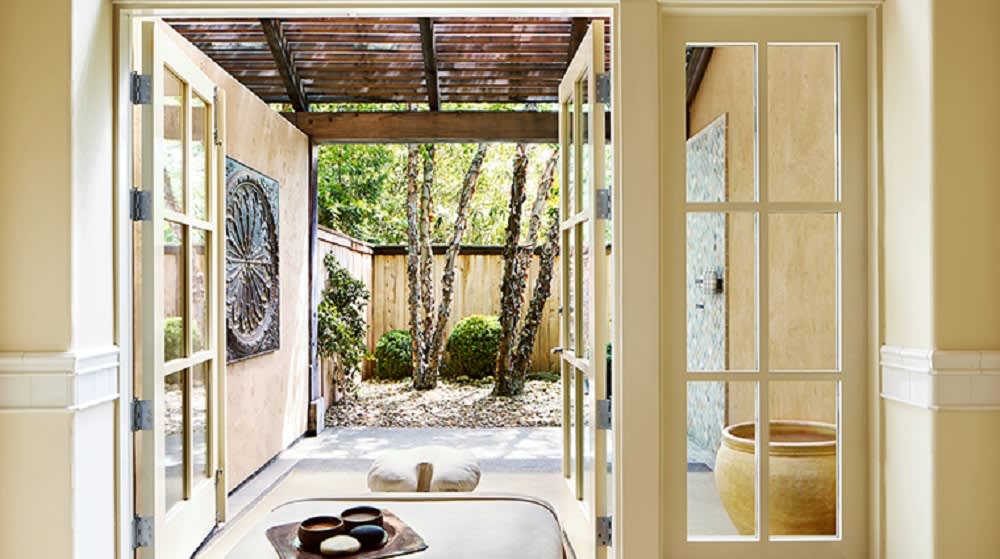 Credit: Forbes Travel Guide
The restaurant
has maintained its upstanding reputation since opening its doors more than 40 years ago. It's earned the Michelin Star award for 13 consecutive years, and Executive Chef Robert Curry prioritizes the freshest ingredients sourced from local purveyors at their peak of flavor. Curry builds delicious dishes that emphasize the region's best seasonal ingredients. The
menu
features a handful of decadent dishes, ranging from steak tartare to house-made campanelle. If you're craving a little something sweet to finish your meal, consider ordering the Pineapple Ginger Turmeric Tart or Coupe au Rhubarb. If you're seeking something more extravagant, you can opt for Chef Curry's two- or three-course prix fixe lunch menu or indulge in a three- or four-course prix fixe or six-course tasting menu for dinner.
To go along with your meal, consider a palate-pleasing apéritif, a French-inspired cocktail, or glass of champagne selected from the table side Champagne art. You can also take a look through the extensive wine list and add a Napa Valley favorite, or allow the restaurant to create a custom wine pairing for each course. Whatever you decide to order, your meal will be paired with panoramic views of the vineyards and beyond.
For more casual fare and drinks, head over to
The Bistro and Bar
. With excellent cuisine, impeccable drinks, and scenic views, it's not hard to understand why The Bistro and Bar is adored by both visitors and locals alike. This venue offers the perfect ambiance for a day of wine-tasting or a satisfying meal on the terrace at the end of the day. Continuous dining is available from 11:30 a.m. to 11:00 p.m. daily.
Solage
Solage
is a second, modern addition to the Auberge Resorts Collections, nestled within the town of Calistoga. A hundred years ago, Calistoga was a town centered around its bubbling natural hot spring and its gorgeous weather. Today, however, it is a bucket-list destination for wine lovers, foodies, and wellness seekers.
Much like Auberge du Soleil, Solage was designed with a deep respect for nature and the natural habitat around it. You can expect unforgettable accommodations whether you book a
studio or a suite
. The loft-like layouts range from 515 to 1,215 square feet, all with outdoor patios and views of Napa Valley. The studio, with a sleek and modern look, enjoys the added benefits of a vaulted ceiling, pebbled shower, and patio adjacent to the secret gardens of Solage. The suites are a great option if you're looking for more space, but both accommodations offer unbeatable seclusion and a private hot tub.
During your stay, be sure to make reservations at
Solbar
. This top-notch restaurant is proud to offer a fresh, globally-inspired menu, and Executive Chef, Gustavo Rios, is passionate about incorporating the use of farm-fresh Napa Valley produce. Solbar, a favorite among locals as a place to gather for craft cocktails or a leisurely dinner.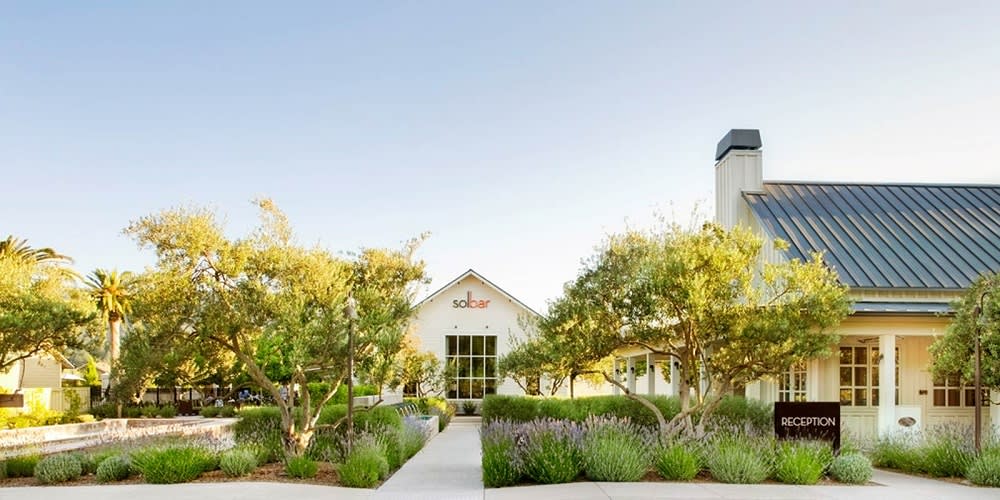 Credit: Napa Valley
The Solbar menu is expertly divided between light, delicate flavors and bold, savory dishes reminiscent of luxurious soul food. Breakfast is served daily—and is superb. You'll find house-smoked salmon lox, chilled coconut-chia pudding, and the Good Morning California Benedict. For dinner, you can choose from a number of mouthwatering entrées, ranging from California Halibut to Half Moon Bay Petrale Sole. End dinner on a sweet note with Solbar's Caramelized Apple Tart or Lemon Cake. Whatever you order, you'll be impressed with the quality and expertise of the menu.
The Solage bar has plenty of
craft beers and cocktails
to choose from—but we suggest the Rose Crush cocktail, made with Hendrick's Gin, house-made rose syrup, grapefruit, and lemon. The Green Flash or Blanton's in a Pear Tree are also mouthwatering. And, of course, it wouldn't be Napa Valley without a myriad of wines to choose from.
In addition to a hip culinary scene and immaculate lodging, Solage offers guests fitness classes, a renowned spa, access to extensive bike trails, and bocce ball.
Wherever you stay, eat, and drink while at the Auberge Resorts Collection, you'll leave with distinctive, luxurious memories. If you're feeling inspired to explore Napa Valley real estate,
contact Ginger Martin
while on your vacation and let her know when you're in the valley. As one of Napa Valley's most trusted real estate agents, Ginger has deep insights to share on buying, selling, or renting in Napa Valley.

*Header Credit: Trip Advisor