If you've driven down St. Helena's Main Street, you've likely seen the banners for Caldwell Snyder Gallery waving on the facade of the historic Star Building. Inside, you'll find dozens of contemporary pieces, mingle with friends, and participate in a timeless discussion on the nature of art. This isn't where the story started, however. Caldwell Snyder Gallery has a long and rich history here in California, and their thoughtfully curated spaces reflect their dedication to emerging and established artists. Here is everything you need to know about Caldwell Snyder Gallery.
What is Caldwell Snyder?
Caldwell Snyder Gallery was created by the joint efforts of Oliver Caldwell and Susan Snyder in 1983. At that time, Caldwell Snyder Gallery only resided in San Francisco's Union Square, but over the last 35 years, the gallery has expanded into three stunning California locations. You'll find Caldwell Snyder galleries in St. Helena and Montecito, in addition to its original Sutter Street location in San Francisco.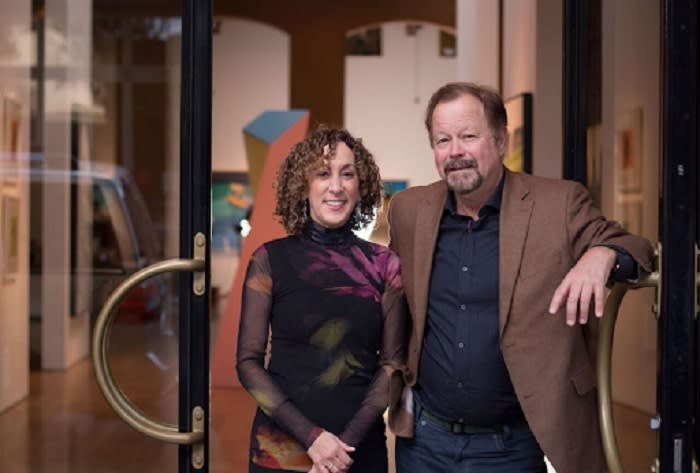 Credit: Montecito Journal
All three locations of Caldwell Snyder Gallery boast collections that emphasize contemporary American and European artworks, including some of the most highly renowned painters and sculptors of the 21st century. For many of their artists, Caldwell Snyder Gallery is the bridge for breaking into the Bay Area art scene. Over the last four decades, Caldwell Snyder Gallery has hosted over 500 exhibitions across three locations in a combined showroom area of more than 12,000 square feet. These galleries make fine contemporary art accessible to the public while holding their artists to the highest standards of quality and innovation. Caldwell Snyder Gallery has created a program with over fifty artists from around the globe that meet their lofty criteria. Additionally, Caldwell Snyder Gallery has opened satellite galleries in New York City and St. Helena, California, and they have participated in numerous international art fairs to showcase their represented artists on new shores.

Beyond the showroom, Caldwell and Snyder have built relationships with collectors as they work closely together to curate private collections that match their clients' tastes. Their services include hunting for the perfect piece as well as offering art advisory intel and collaborating with businesses and homeowners to cultivate their ideal space and assist with installations. This personal touch keeps the gallery closely connected to its clientele and their finger on the pulse of the latest trends.

The Caldwell Snyder Gallery roster of artists is handpicked, one of the many luxuries of working as a close-knit and well-established partnership, and by working with living creators directly, Caldwell and Snyder remain close to the beating heart of art itself: the artists. Despite their international presence, Caldwell Snyder Gallery is ultimately a mom-and-pop shop. Partners Caldwell and Snyder work together on the ground floor of the gallery where they face clients, discuss art, and create bonds with their audiences. Because of their proximity to the client, Caldwell and Snyder can anticipate client desires and make thoughtful considerations regarding art in their program. Caldwell Snyder Gallery continues to stand out amongst its competition as the gallery has been in continuous operation for more than thirty years, which is a sizable feat for a contemporary art gallery. How have they done this? Through trust. Building a strong, trustworthy relationship with both collectors and artists has allowed Caldwell Snyder Gallery to thrive even as their artists grow with fresh techniques, shift between styles, and experiment with new mediums
Caldwell Snyder Gallery San Francisco
The flagship Caldwell Snyder Gallery sparked something new and breathtaking in San Francisco. The first rendition of the gallery was nestled inside an industrial building South of Market, but in the late 1990s, Caldwell and Snyder purchased a restaurant venue, gutted it, and transformed the space into something entirely new. By taking the leap into a brick-and-mortar storefront, Caldwell Snyder signaled to its clients and artists alike that it was in the run for the long haul. This 9,000 square foot exhibition space quickly became a Union Square hotspot that attracted crowds of avid art purveyors, and its Sutton Street location is a frequented stop for locals and out-of-towners alike.

This space stands out in a city that is inundated with art day in and day out because it searches long and hard to find distinctive voices. With the onslaught of modern technology, the way viewers interact with art has shifted dramatically, and the trend of change will only continue. Caldwell Snyder Gallery has adapted alongside this influx of imagery that is accessible online 24 hours a day by carefully curating artists that bring a surprising tone, deep reflection, and distinguishable style to their art. This gallery also puts user-experience at the forefront of their business model, making sure both artist and client are content with their time at Caldwell Snyder Gallery.
Caldwell Snyder Gallery St. Helena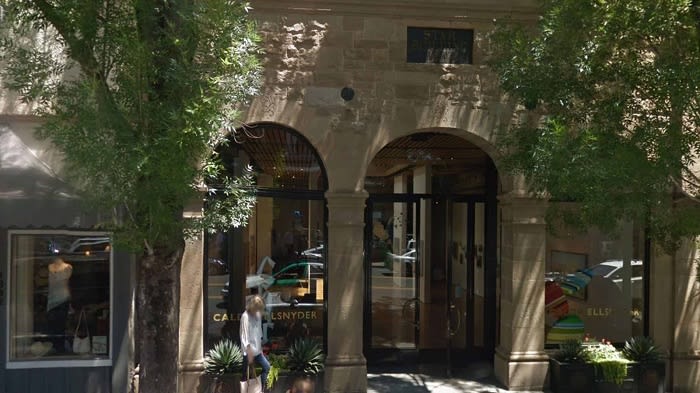 Credit: St. Helena
St. Helena's Caldwell Snyder Gallery can be easily found on Main Street, where it has put its roots in the historic Star Building, which is listed on the National Register of Historic Sites. Once the home to the St. Helena Star, the town's weekly newspaper, and the St. Helena Post Office, the Star Building opened in 1900. Over 100 years after opening, Oliver Caldwell reimagined and designed the building in 2005. With the help of contractor Tom Crowley and builders Fernando Vigil and Juan Luis Vigil, the Star Building was remodeled and retrofitted so that it could house the second installation of Caldwell Snyder Gallery.

The juxtaposition of St. Helena's rich past and Caldwell Snyder Gallery's innovative contemporary art creates an inspiring dissonance that propels creativity. This iconic St. Helena venue is the perfect home for Caldwell Snyder's smart and sophisticated gallery. Caldwell's design lifted the rafters so that the main showroom could utilize the building's high ceilings and create an inviting openness that lets the art shine.
Caldwell Snyder Gallery Montecito
At the heart of Santa Barbara, Caldwell Snyder Gallery opened a third permanent branch with their Montecito location. After years of searching through art-focused Southern California towns to find the perfect place for a new showroom, Caldwell and Snyder decided that Montecito was the only one that met their extraordinary expectations. Other areas had a resort feel that was deluged with other galleries and poor taste, but Montecito wears a sophistication and style that suits Caldwell Snyder Gallery so well that it is almost as if they have been there for years. Similar to the location in St. Helena, the Caldwell Snyder Gallery in Montecito was envisioned and designed by Oliver Caldwell, and this new venture opened its doors on October 1, 2020. Situated on Coast Village Road, this sleek showroom is dripping in modern design, and with a striking Brad Howe steel sculpture standing as a centurion outside the front door, you won't be able to miss it. With a smaller footprint, the showroom's glossy white walls and polished cement floors provide an intimate experience.
What Kind of Art Will You Find at Caldwell Snyder Gallery?
All three of Caldwell Snyder Gallery locations were thoughtfully chosen to reflect the caliber of art in their catalog, which typically have asking prices that range between $25,000 and $100,000. Caldwell Snyder Gallery specializes in contemporary artworks from modern American and European creators. Painters, sculptors, and photographers dapple the Caldwell Snyder Gallery program and continuously deliver breathtaking, mesmerizing artworks that are both thought-provoking and aesthetically appealing. Here are a few of the artists you will find in the hallowed halls of a Caldwell Snyder Gallery.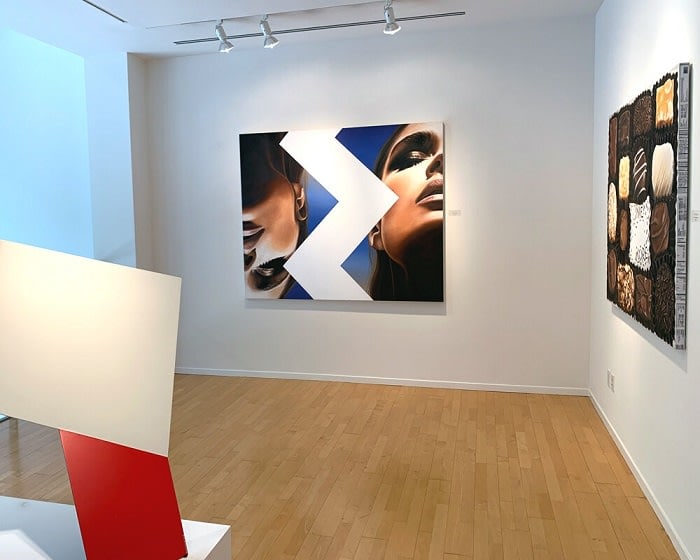 Credit: Ryan Jones
Painter Ryan Jones layers sultry imagery to invoke an inquisitive emotional response, and his lavish designs mimic a bygone gilded era of Hollywood—effortlessly glamorous and equally gritty. Primarily done in black and white monotone, his noir paintings are nostalgic, evocative, and often touch on themes of travel and luxury.
Technicolor visions are Matt Rogers' specialty. This California-based artist dabbles in bright light and fluorescent highlights in his stunning oil paintings. With an homage to both Pop Art and California's vibrant scenery, Rogers' work offsets light and dark in an intriguing chiaroscuro that immediately captures the attention of onlookers.
Sculptor Francois du Plessis utilizes a surprising medium for his colorful handmade artworks: books. What he creates is something more entirely. His full-circle creations resemble tree rings, the very trees that are sacrificed to create such books in the first place. These intricate sculptures are hypnotically colorful and make incredible focal points for a home library or office.


If you're interested in learning more about Napa Valley real estate or St. Helena luxury homes for sale, contact me for more information on how you can call California's wine country home.
*Header Image Credit: Ross Penhall