As technology has evolved, we've become accustomed to its presence in all areas of life. We use phones as maps, we see doctors virtually, and we even have self-driving cars. But our homes—some older and more "traditional" than most—are easy to neglect. There are so many smart devices that could make life at home easier and more streamlined. What are you waiting for? We're about to take you through all of the tech upgrades you need for an exceptionally convenient lifestyle.
Smart Locks
Say goodbye to fumbling with your house keys. Today's smart locks eliminate the inconvenience of physical keys. Top-of-the-line models lock and unlock on their own. You can designate unique passcodes for everyone who enters your home. With the smartphone capabilities of these locks, you can receive an alert every time someone enters or exits. Google Nest x Yale makes an excellent model. The touchpad is discrete and comes in a variety of metallic shades. You could even select a model that includes a video camera for ultimate security. 
Smart Toilets
It's time to bring the spa to you. Smart toilets are sleek, modern, and loaded with functionality. Top models self-clean, allowing you to forego that task. The seats open and close automatically, thanks to an automated sensor. They also self-deodorize. The benefits? You'll never have to interact with the germiest aspects of a toilet. You can also choose from a variety of deluxe spa additions. Bidets are integrated into most smart toilets and can be easily adjusted. Choose water pressure and direction for an effortless clean. 
Radiant Heating
Radiant heating is the best way to keep your home at optimal temperatures without wasting energy. Radiant heating supplies heat directly to the floors and walls. These hydronic heating systems are clean, quiet, and easy to install underneath any flooring or behind any walls. These designs conserve heat, limit allergens, and increase your home's resale value. Upgrading the quality of your heat equates to a major increase in lifestyle quality.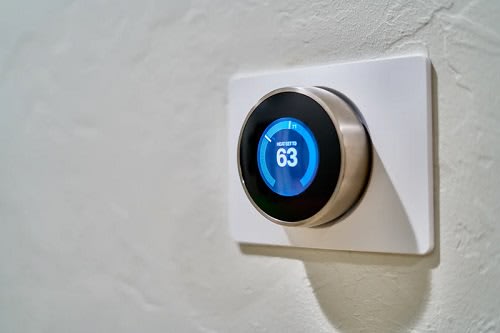 Smart Thermostat
Another easy way to maintain your home's temperature is by installing a smart thermostat. Smart thermostats are an eco-friendly option for your home. They're Wi-Fi compatible, so you can control them on your phone, anywhere, and anytime. Set temperature limits, or choose a model that senses when people enter and exit a room. You can also coordinate your thermostat and your Alexa/Google Home—no more getting out of bed at night to up the AC. Everything is possible with a simple command.
Smart Shades
Smart shades are another excellent way to conserve energy and maintain your home's temperature. Smart shades range from smartphone-controlled to solar-powered. Solar-powered shades can automatically lift or lower based on the amount of sunlight in the room. You could also control your blinds via smartphone from any location. Say it's a hot summer day but you're out and about—simply send your shades down via smartphone. Your cool home will be waiting for you.
Smart Lighting
Lights that know when to turn on and off—they conserve energy and effort and are a must-have in today's market. These eco-friendly lights use less energy than regular bulbs. They work with a "smart hub" to connect to Wi-Fi, which means you can control them from your smart device. Program them for specific times, set the dimness, or even choose from a variety of hues and colors. Upscale models can detect movement into or out of a room, eliminating the need for light switches. 
High-Tech Refrigerator
Refrigerators have come a long way and are now full of luxurious details. A deluxe refrigerator, such as this one, can sense the perfect temperature for each type of food in the fridge. Keep produce in one area, poultry in another...these refrigerators know how to treat and cool each area. This climate managing function helps foods retain their unique nutrients. Another major perk? Many models have touch screens on the doors, which act as meal planners, family calendars, and grocery lists. Your refrigerator will tell you when you're out of eggs, milk, or something else. These little changes add up to major convenience. 
Tinted Windows
Modern homes especially benefit from the privacy of tinted windows. Today's windows are smart enough to tint during the daytime to prevent excess light from heating your home. They're also capable of tinting at night, which can maximize privacy. There are many different tinting materials, from Carbon to Coavas. Choosing your tint is simply a matter of knowing what you want from an elevated window system.
Digital Shower Interfaces
For many people, the shower is a place for calm, rejuvenation, and escape. Enhance your shower experience with a digital shower. These interfaces are easy to use and make subtle adjustments to your experience. Change the water pressure or temperature with the press of a button. Many models have built-in sterilization systems, which clean the shower between uses. Set your mood lighting, play some music from the built-in shower speakers, or watch a few minutes of your favorite show on the shower screen. With built-in sauna options, you could also opt to sit and stay a while.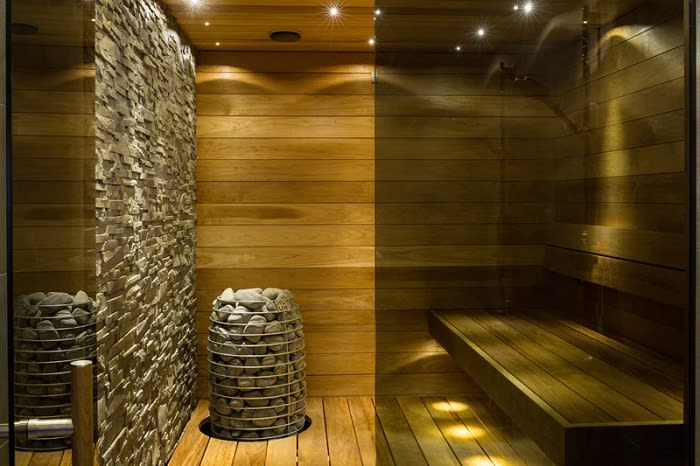 Smart Bed
You like a firm mattress, but your partner prefers a soft one. You're a warm sleeper; they're always freezing. Smart beds solve these issues and reduce sleepless nights. Today's smart beds come with a slew of personalization options. Multiple layers contour to your body shape, targeting your specific pressure points. Because each side of the bed can be personalized, there are fewer opportunities to be jolted away by a partner's movement—you're guaranteed to remain cradled on your side. Silent air pumps circulate air throughout the night, so you can say goodbye to overheating. You can control the bed manually, select the "auto" option, or control it via your smartphone. In terms of luxury mattress shopping, smart beds are top-of-the-line and worth every cent.
Eco-Friendly Range Cooktops
Range cooktops have become a staple in modern, luxury kitchens. Range ovens are a great option for people who love the professional look of a restaurant stovetop/oven. Certain brands have also honed in on eco-friendly designs. They specialize in low carbon-monoxide emissions, recyclable parts and packaging, and true convection modes (which reduce energy consumption). Another perk? Many models come in gorgeous colors and designs. Modern doesn't have to mean boring, and it certainly should mean environmentally friendly.