Sunsets. Warm nights. The sounds of crickets and the glints of fireflies. Summer isn't far away, and soon, it'll be time to dust off those outdoor spaces. As outdoor kitchen owners know, there's nothing better than firing up the grill and enjoying a meal under the stars. But is your outdoor kitchen reaching its full potential? Read on to learn how you can enhance your outdoor kitchen for the 2021 season.
Luxury Fire Pits
There is truly no better feeling than gathering around the fire on a summer night. Roasting marshmallows, swapping stories—these are the best summer memories. Why not invest in a luxury fire pit for this season? Today's designs look more like art pieces than rustic pits. Choose a gas model for convenient fire access at any time. Or, go old school with a sturdy stone pit and some fresh logs. From copper to concrete, there's a look for every outdoor aesthetic. You could also choose a set with matching seating—a great place to entertain guests. 
Pizza Ovens

Pizza ovens are great in an indoor kitchen, but they're especially fun outside. After all, the best pizza comes from a wood-fired oven! Outdoor pizza ovens come in a range of styles and looks, from stainless steel exteriors to azure tiled exteriors. Choose the right size for you, based on the pizza sizes you prefer. Similar to fire pits, pizza ovens act as centerpieces and allow for memorable group gatherings. Grab your pizza block and head to the oven—your friends are sure to leave impressed (and full). (Photo credit: 1000 Fulton Lane, Saint Helena, CA)


Outdoor Bars
It's one thing to serve drinks on your patio; it's another to serve them from behind a luxury bar. Outdoor bars elevate your kitchen (and entertaining) experience to a new level. Many are portable and made of long-lasting materials that prevent damage. Behind the bar, you'll find shelves, hooks, and a space to store ice. Having a bar outside means no more leaving the part to refill drinks. Refill while you talk, and wow your guests with your bartending abilities (or even your bartender's bartending abilities).
Bar Seating
The more the merrier! Bar stools are a fun way to make space for guests and to make guests feel like they're at a real restaurant. Choose a few barstools to align with your bar. Just make sure the seats are durable and/or under an overhang. 
Outdoor Bar Cart
Bar carts add a nice touch to any dining area. If you'd like to store your alcohol in a more visible location than your outdoor bar, consider purchasing an upscale bar cart. Some bar carts, or "cocktail stations," fully display your alcohol while also providing perfectly chilled regions for storage. You could also opt for a more decorative bar cart, such as this one. 

Wine/Beer Fridge
Another gadget that's great for hosting? Outdoor wine and beer refrigerators. These temperature-controlled refrigerators keep wine appropriately cool and can also double as beer taps. Simply fill the tap with your favorite brew, and get ready to have a perfectly chilled wine or beer option for any guest. 
Grills

No outdoor space is complete without a grill. Grilling is such an important part of summer! If you need a grill update, consider one with dual grilling functionality. Many are built to withstand huge portions of meat and to seamlessly grill different meats and/or produce at the same time. You might also buy one with a door cooling system, so you no longer have to touch a hot grill. Depending on your layout, you could choose a free-standing option or a countertop one. For convenient storage, choose one that includes cabinets and side panels. These small touches make a big difference for busy grill masters. 
Vent Hoods
While some outdoor kitchens are free-standing, many are covered by a pergola or similar covering. When installing a new stove or grill, it's crucial to include a vent hood. Cooking in a compact space with limited airflow increases safety risks. A vent hood promotes air circulation and prevents excessive cooking smoke. Stylish vent hoods are also a majorly popular kitchen design trend. Why not bring the kitchen trends outdoors?
Patio Heaters
Patio heaters have been crucial over the past year due to an uptick in outdoor socializing. These heaters aren't just for restaurants! They're an excellent way to keep the fun going outside. A smart patio heater is the most effective and efficient way to heat your space. Some models, like this one, are ergonomically designed—instead of simply sending heat upwards, they send it in multiple directions. This allows for optimal coverage and less wasted heat. One-touch ignition models eliminate the need to play with fuses and flames. And, thanks to wind-resistant mesh screens, these modern heaters won't lose heat in extreme wind conditions.
Seating
An outdoor kitchen usually means more space to gather. And, in order for people to gather comfortably, you'll need to invest in some fabulous patio furniture. Keep your furniture accessible and conversational. Outdoor sectionals are a great option for lounging or seating multiple people. Or, you could accessorize one couch or sectional with multiple smaller chairs and loungers. After all, the patio should be a comfortable spot. In the event you love hosting dinner parties, you might find a long dining room table suits your needs. A long wooden table could be regal or modern, depending on your aesthetic. Prominent tables also send the message, "The more, the merrier."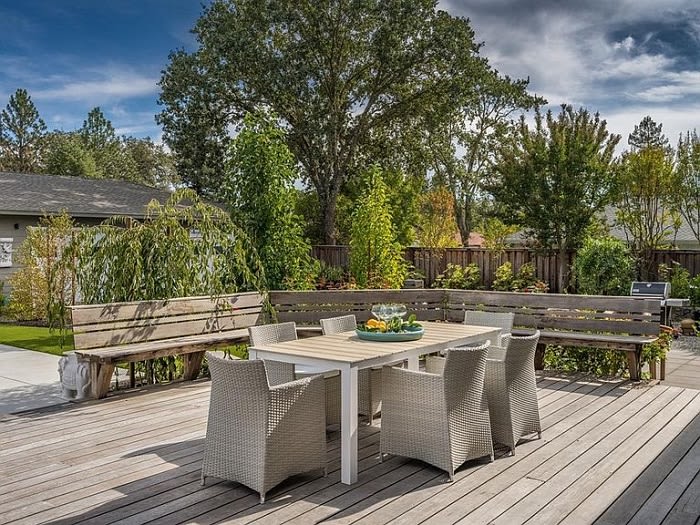 Photo credit: 248 Los Palos Street, Sonoma, CA
Food Prep Stations
It's important to be able to prepare and cook in your outdoor kitchen so as to eliminate constant traveling in and out of doors. Consider your food prep station; is there enough room, or could it use expansion? A covered food prep station—complete with countertops, a sink, a dishwasher, and a trash compactor—is key when it comes to entertaining. If your prep station and your cooking stations are all in one area, be sure to provide guest seating, so guests can communicate with you as you cook. If your prep station is separate, a pergola or other creative overhang adds a nice design element to your functional space.

Looking to buy or sell a luxury property? Contact Ginger Martin Real Estate.