How to please any and every palate at your next soirée
There is no appetizer or light, breezy meal more striking than a charcuterie board. This fun spread has become increasingly popular due to its fresh and artisanal qualities, vibrant colors, dynamic flavors, and dramatic visual appeal. Its culinary "choose-your-own-adventure" presentation is fun yet classy, and a well-crafted charcuterie board is sure to impress every guest. These French-derived, no-bake boards also make for easy entertaining—there are no ovens or stovetops involved and minimal clean-up. All you have to do is arrange a variety of cured meats, cheese, nuts, fruit, crackers, and spreads—and voilà! There is something on the table for everyone. From a small, charming board to an opulent one that fits your entire table, it is truly culinary magic. Whether it's date night or a holiday dinner, a picnic or a party, a charcuterie board will wow your guests during any special occasion. Here are a few tips to make a smashing spread that will leave everyone talking.

Provide Choices for All Cravings
The ultimate charcuterie board has a balanced and exciting combination of flavors. You want your guests to be able to pick out a diverse selection of something they're familiar with as well as something unexpected, whether it's a uniquely flavored cracker or cheese. When you provide a wide array of options, you'll ensure that there's something for everyone to choose from and like—whether your guests are vegan, vegetarian, or a meat lover. The sky's the limit when it comes to this culinary creation—no two platters are exactly alike, which makes charcuterie boards such a treat to curate and enjoy. Don't forget to take note of your guests' food allergies and intolerances beforehand—foods will often touch or overlap on the platter.


Shop by Taste and Texture
Overall, you want to have a variety of textures in your meat and cheese selections. While purchasing your cheeses, be sure to pick up one or two harder cheeses (cheddar, Monterey, Gouda, Havarti, Jack, Colby, etc.) and one or two cheeses that are more soft, crumbly, or creamy (mozzarella, burrata, blue cheese, Brie, etc.). When you select your meats, pick at least one hard salami (like chorizo or soppressata), at least one thinly-sliced meat (like jamón, turkey, pepperoni, or prosciutto), and at least one softer meat (like a pâté, mousse, or rillette). You can also shop and select by preparation type: one crudo (raw cured meat) and one cotto (cooked meat). Balance is key. When you're shopping for these meats, be sure to ask the person at the deli to slice the rich, salty meats as thinly as possible. For your soft meats, add one large dollop right next to the bread or crackers.


Don't Be Afraid to Add Heat and Get Sweet
To create a truly well-rounded board, sweet and spicy items should be included in addition to salty and savory ones. Try a habanero mango cheddar, spicy raspberry jam, or marionberry habanero pepper jelly—or even a full side of peppers for some heat! If you want to get savvy and add more physical heat, consider roasting or grilling your fresh fruit and veggies. There are plenty of ways to add a sweet touch to your board. Blue cheese drizzled with honey is dreamy, as is an apple and caramel combination or dried cranberries with a bite of dark chocolate followed by a sip of red wine. Chocolate fondue with fresh fruit and bread for dipping is also an excellent combination.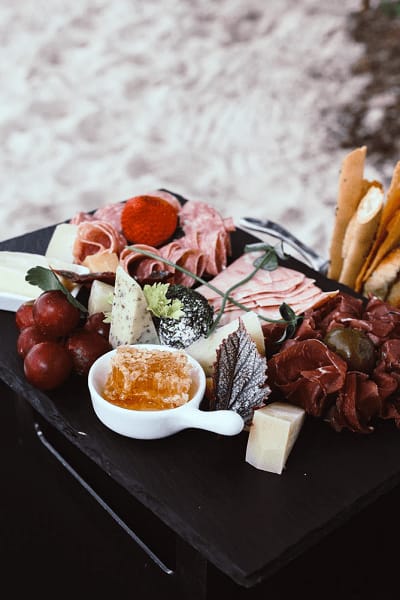 Remember That Size Matters
Charcuterie boards are fun to design and construct, but an excellent charcuterie board takes a little more thought and strategy. If you're serving the dish as an appetizer, aim to include anywhere from two to three ounces of meat and cheese per person. If you're serving the dish as an entrée, your goal should be about five to six ounces of meat and cheese per person. For crackers and bread, choose two to four boxes or sleeves. With that being said, be sure to select a cutting
board
that accommodates the size of your party. A standard size cutting board or platter for charcuterie is about 9×13 inches but can be as large as 12×18 inches—even your entire tabletop or counter. Any flat surface you have available will do the trick.
Select Good Wood
One of the best parts about charcuterie boards is the presentation, but not every wood is good to use. Open-pored woods, like ash and red oak, are hard to clean and can result in messy stains. Pine leaves a lingering taste and keeps scars from knives and serving utensils. For your soon-to-be board, you'll want to stick with hard and non-porous woods such as maple, cherry, olive, acacia, beech, birch, and teak. Your options don't stop there—a rustic look is a beloved one, but some opt for a more modern, sleek, or even vintage presentation. Other materials that make for excellent charcuterie boards include kitchen slate, marble, and bamboo. If you're looking to get even more creative, think outside the box with round or octagonal-shaped boards as opposed to square or rectangular ones.
Traditional pizza peels
are also popular because of their fun shape and ease of transport to and from guests due to their handle. At the end of the evening, be sure to check if your cutting board is dishwasher safe, as many are made for delicate hand-washing to keep their full essence.
Credit: Lifewire
Visualize Your Board Before Beginning
A good charcuterie board is thrown together and a great charcuterie board is hand-crafted. Laying everything out on the table before assembling allows you to think about how and where each piece will fit—similar to a puzzle. You can even look up boards online or on
Pinterest
to achieve your desired aesthetic. When you begin placing your items, starting from the center and working outwards does wonders to provide a great sense of guidance. You'll want to place large items on the board first then go from there. Be sure to place an equal amount of items on both sides of the board. For example, if you position crackers on one side of the board, include the same amount on the other as well. This method is also important for easy access and to keep your guests from waiting in line. If you end up running out of room for the bread and crackers, have no fear. Take this as an opportunity for a masterful twist and place your items in a stunning basket, bowl, or plate on the side.
Start Your Board with Bowls
Bowls are perfect anchors to begin with that will keep your spread neat and tidy throughout the night. To start your groundwork, fill small bowls, tins, jars, glasses, or china with a variety of jams, preserves, mustards, sauces, and/or dips, then place them around the board to your satisfaction. Some charcuterie board favorites include, but are not limited to, fig spread, pesto, coarse ground mustard, and jams that are made of apricot, strawberry, raspberry, and other fresh fruits. If your jams come in jars that are attractive or fit the feel of your board, feel free to serve them just as they are. These bowls perform double duty since they are also wonderful pieces to lean light crackers or bread against. You don't have to limit your bowls to spreads and dips—feel free to include fresh mozzarella balls or nuts of any type! Don't forget that variety is key—be fearless in providing four, five, or even six selections.


Get Creative with Cutting
The best charcuterie boards have items and ingredients that are easy to pick up and don't involve excessive cutting or extra work once they leave the table. If you have larger wedges or rounds of harder cheeses, you may want to cut them in halves or quarters, cube them, or slice them so guests can grab and go. For softer and more crumbly cheeses, consider keeping the block whole for a neat and beautiful appearance with a serving knife nearby. Your meats can be sliced diagonally for a nice touch and then rolled up or folded for easy access. For both meats and cheeses, you can fan them out or stack them delicately to create the ultimate showcase.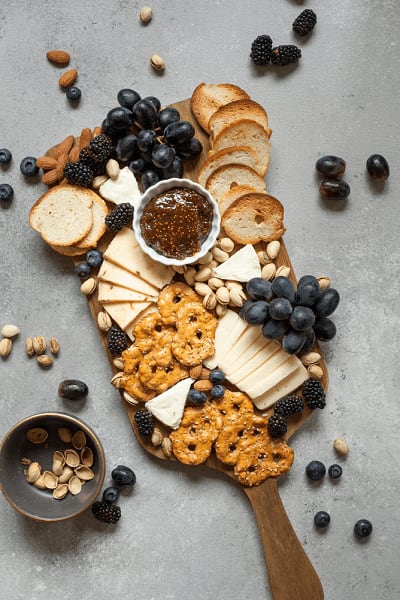 Be Bold with Your Bread
No charcuterie board is complete without a little crunch. Crackers and bread provide the perfect opportunity to create tasty yet interesting building blocks for your guests to layer their meats and cheeses on. Start with plain, neutral-flavored snack crackers, pita or pretzel thins, crostini, and/or sliced baguettes—both soft and crispy options—then add in some flavor. There are several unique cracker variations to choose from at the store, from cranberry hazelnut to spicy ranch. Consider providing gluten-free options for your guests as well, such as rice crackers.


Fill it Up with Fruits and Garnishes
Some prefer a loosely-arranged presentation, but a tightly-packed board tends to provide more visual punch. Save your fruits for last and fill in the final gaps on your board with juicy fresh fruit and/or dried ingredients such as dates, apricots, or plums. Grapes provide the perfect contrast against meats, cheeses, and crackers—as do almost any berry. If you opted for Brie or cheddar cheeses, apple slices make the perfect pairing—some even add tomatoes! Tucking in a few fresh herbs under bowls and ingredients—such as mint, rosemary, basil, or arugula—also helps fill up the space in a useful and tasty way. Fruits and garnishes add that concluding "pop" of color on your board with bright reds, greens, purples, and oranges. Make sure you're not placing too many similar colors directly next to each other and that you spread the richness and wealth. This final touch of brilliance makes for a memorable board. Plus, an accidental leaf scooped up on a slice of cheese is heavenly.


Stick with the Season and Make it Fun
Not only do you want to use fruits and veggies that are in season, but you also want to leave a lasting impression and special touch for the holidays. For a Valentine's Day charcuterie board you could feature a small bowl of candied hearts and chocolate rather than nuts, while for the winter holidays you could include cranberries and sprigs of thyme or another herb. The most fun part about charcuterie boards is that they aren't limited to the time of day or region—you could make a
brunch-themed charcuterie board
with pancakes, fresh fruit, and toast or celebrate different
countries
with a Spanish, Mediterranean, Italian, Mexican, or traditional French board.
Pair Intentionally
A charcuterie board is wonderful on its own, but a great
pairing
takes it to the next level. Since there are a lot of flavors coming together on the board, you'll want to provide your guests with several wine choices, including red, white, rose, and sparkling wine. Goat cheese, prosciutto, and smoked salmon pairs well with white wines, while cheddar, blue cheese, and salami tag along wonderfully with a hearty red wine, such as Pinot noir. Sparkling wines and off-dry rieslings, such as Proseccos and Lambruscos, reset the palate so diners are ready to take the next bite.
Go the Extra Mile
Not only are labels or miniature signs a great conversation starter and a lovely touch of décor, but they're also helpful to your guests. If you choose specialty cheeses, crackers, or meats with strong or unique flavors, consider labeling them so guests aren't taken by surprise or confused at what they're trying. Toothpicks are a must to avoid messy fingers and utensils and are oftentimes more helpful than spoons while picking up olives and pickles out of jars. Get out your best cheese knives for the soft cheeses and while you're near the cabinets, grab some coarse sea salt, freshly cracked pepper, and high-quality olive oil to offer as well.


Looking for More Dinner Party Tips and Destination Ideas?
Contact us
today. We would love to be your Napa Valley real estate agents and assist you in finding your dream Sonoma Valley home. In the meantime, read more on our blog
here
.