Napa Valley is famous for its world-class vineyards and exquisite wines. But Napa isn't only a hub for wine lovers; the area boasts a number of excellent art galleries. This article covers eight of the best art galleries in the Napa Valley region so that you can plan a perfect itinerary that includes more than just wine tastings and vineyard visits.
1. Quent Cordair Fine Art
The
Quent Cordair Fine Art Gallery
has one of the best collections of romantic realism found anywhere in the country. Romantic realism combines the esthetic techniques and standards of the pre-20th century ateliers with beauty, stylization, and romanticism. The collection demonstrates themes ranging from life on Earth to moments of joy while emphasizing figurative, allegorical, narrative, landscape, seascape, and still-life mediums.
The Quent Cordair Fine Art Gallery hosts the works of numerous accomplished sculptors, painters, and portrait artists, many of which are available for commissions. In addition to housing fine art, the gallery also sells works from award-winning artists and ships purchased pieces nationwide. On occasion, the gallery hosts art auctions where visitors can bid on their favorite works, in turn making the Quent Cordair Fine Art Gallery one of Napa Valley's premier destinations for fine art lovers.
2. Jessel Gallery
Jessel Gallery
is home to many well-established artists as well as emerging artists from diverse backgrounds and mediums. Every month the gallery holds a reception to feature the works of both new creators and resident artists in the gallery's collection. What's more, the gallery often hosts groups including the
Napa Valley Photographic Society
; visitors from the
Brown Street Gallery
, which focuses on the works of adults with disabilities; and artists working in collaboration with
Napa Valley Open Studios
.
The Jessel Gallery displays pieces of fine art, jewelry, handmade arts and crafts, and wearable art. They also sell various items such as books, gifts, clothing, and consignment pieces. Those visiting Napa Valley will appreciate the plethora of varied art on display at Jessel Gallery, and for those living in Napa, there is always something new happening here which makes it one of the premier centers for art in the region.
3. Ca'Toga Galleria D'arte
Ca'Toga Art Gallery
features the art of Carlo Marchiori, a world-famous artist known for using various mediums, including paintings, ceramics, sculptures, tiles, murals, porcelain, and much more. Marchiori often depicts animals and human figures set amongst striking Venetian backgrounds. The gallery itself is set in a striking vineyard villa, where guests can appreciate the grand mosaic Marchiori created in the main hall, as well as countless other exemplary works on display. The stunning terrazzo floor is a perfect depiction of the universe as it was thought to be prior to Copernicus, replete with the sun, moon, and stars all circling the planet.
In addition to viewing the fine works on display, visitors of the gallery can purchase gifts in the gallery shop ranging from handmade ceramics to hand-crafted artisan furniture. This is without a doubt one of the most striking art galleries in all of Napa Valley, and art lovers in the area would be doing themselves a disservice if they didn't visit the gallery at least once.
4. Aerena Galleries and Gardens
Aerena Galleries and Gardens
houses fine art from all sorts of artists, including emerging talents, mid-career professionals, and well-established artists from all over the world. Many of the artists on display at the gallery have works featured in major museums and have plenty of public and private commissions under their belts.
Not only is Aerena an exceptional art gallery, but a proud owner of an on-site sculpture garden that is a sight to behold. Visitors can make a full day out of touring the various galleries, exhibits, and grounds, making Aerena Galleries and Gardens one of the highlights on any art tour in Napa Valley. With an ever-revolving cycle of new exhibitions, there is always something new and exciting on display at the gallery, even for repeat visitors. And to remember your visit, head over to the on-site shop for works of art, crafts, and gifts.
5. Gordon Huether Studio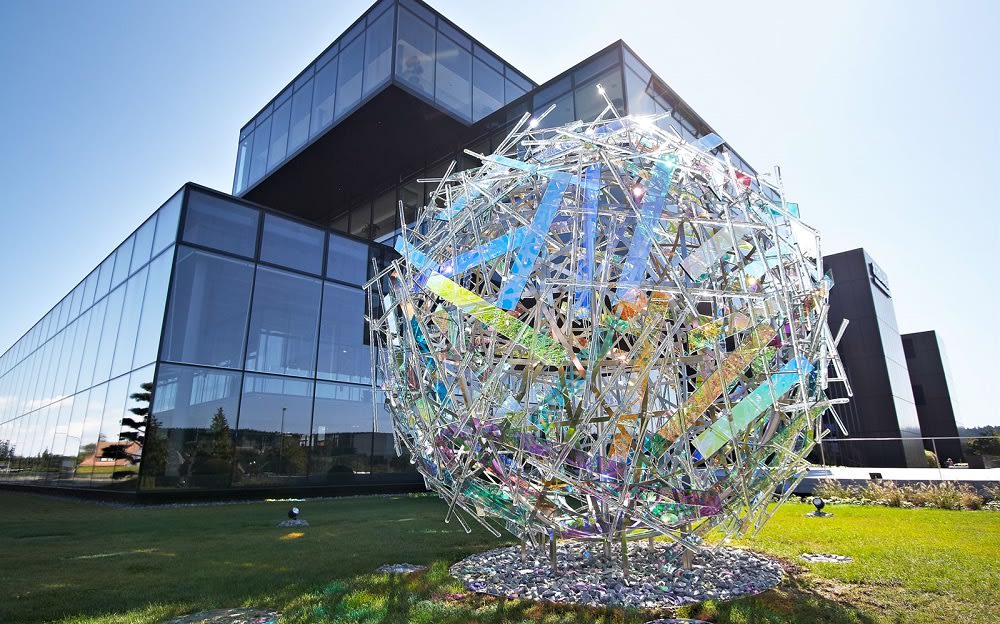 The
Gordon Huether Studio
was created to showcase the large-scale works of renowned American artist Gordon Huether who has been commissioned to produce works for airports, hotels, private corporations, civic buildings, museums, libraries, and many other public edifices. To date, Huether has received more than 70 public and private art commissions, making him one of the most prolific large-scale artists of modern times.
The pieces on display at the gallery can be divided into a number of different categories, be it education, fine art, hospitality, health care, spiritual, civic, or cultural. Visitors to the gallery can view the works of Huether as well as select guest artists. They will also have the opportunity to purchase various pieces that go on sale or are put up for auction. If you are a lover of large-scale art, you definitely won't want to miss the Gordon Huether Studio.
6. Caldwell Snyder Gallery
First founded in 1983 in the San Francisco Bay Area,
Caldwell Snyder Gallery
has since expanded and now has three locations, including one in the heart of Napa Valley. The gallery features more than 12,000 square feet of exhibition space and is one of the largest, most diverse art galleries in Napa Valley.
Beyond the ever-changing exhibitions, the gallery works in tandem with private collectors to grow the collection on display, locate works of fine art, and showcase the very best art procurable in Napa. The gallery also takes great pride in discovering up-and-coming artists and newfound talent from around the world. Visitors to the Caldwell Snyder Gallery can expect to spend a full day exploring various works of art and may even need two days to fully appreciate everything this exquisite gallery offers.
7. Erin Martin Design
Erin Martin Design
is an obscure, modern design art gallery that specializes in showcasing the best modern design in a variety of different media. They feature new exhibitions every month and often display thought-provoking works depicting the best in contemporary design trends.
From home design to commercial design to interior design and more, Erin Martin Design is the best place to discover emerging concepts in the realm of all things design-related. So if you are presently designing your home and looking for inspiration, or if you simply love to marvel at the very best of interior design artistry, then be sure to schedule a visit to the Erin Martin showroom while touring Napa Valley.
8. Gallery 1870
Gallery 1870
highlights the very best art of the Napa Valley region. Located in the heart of Yountville, the gallery features an eclectic mix of both contemporary and traditional fine art from the state and abroad. Founded in 1994, Gallery 1870 has become one of the premier destinations for fine art in Napa and continues to keep that reputation today.
Visitors will appreciate the variety of different mediums on display, including hyper-realism, contemporary realism, philosophical symbolism, 3D impressionism, romantic realism, florals, cityscapes, landscapes, and European fine art. In addition to the numerous works on display, visitors of the gallery can also buy prints featured in the collection from the gift shop, making Gallery 1870 yet another shining example of Napa Valley's magnificent art culture.
Are you ready to call Napa Valley home?
Napa Valley is famous for being one of the best wine-producing regions in the world and is most certainly the best wine country in America. With striking vineyards around every corner and wines that will have you coming back for more, Napa is, without a doubt, a true
wine lover's paradise
. That said, Napa Valley also has so much more to offer.
There are tons of exciting art galleries to explore like the ones we've looked at in this list. So if you live in Napa Valley, are thinking about purchasing real estate, or are simply passing through on a tour of the region, consider carving out some time in your itinerary to enjoy the fine art on display.


Ginger Martin
is the premier luxury realtor serving Sonoma and Napa Valley. Our team continues to shatter real estate records in the region, and we are widely considered one of the Napa Valley real estate agencies. If you are looking at homes for sale in Napa Valley, we'd love to
get in touch
and help you get the home of your dreams.