Bordering the Pacific Ocean north of San Francisco, Sonoma County has no shortage of natural beauty, wineries, or luxury real estate. If you're considering building or buying in Sonoma County, the first order of business is finding a style and landscape that resonate with your taste.

Below is a preview of the nine most popular styles you'll encounter when searching Sonoma County real estate.
1. The Modern Barn
If the thought of living in a barn conjures up images of dark, drafty livestock pens—think again! The combination of spaciousness, quality construction, and practicality have made barns increasingly popular as modern renovated living spaces and have rewritten the rule book for unpretentious architectural innovation.
Howard Backen
is an American architect based in Napa who focuses primarily on residential and winery projects inside renovated barn spaces.
Modern barns have a number of defining characteristics that maintain the rustic, agrarian charm of a countryside barn. You'll likely know it when you see it. The sizes, materials, and technologies used to renovate or design each barn tend to be unique—but most come equipped with open floor plans, high ceilings, and big windows.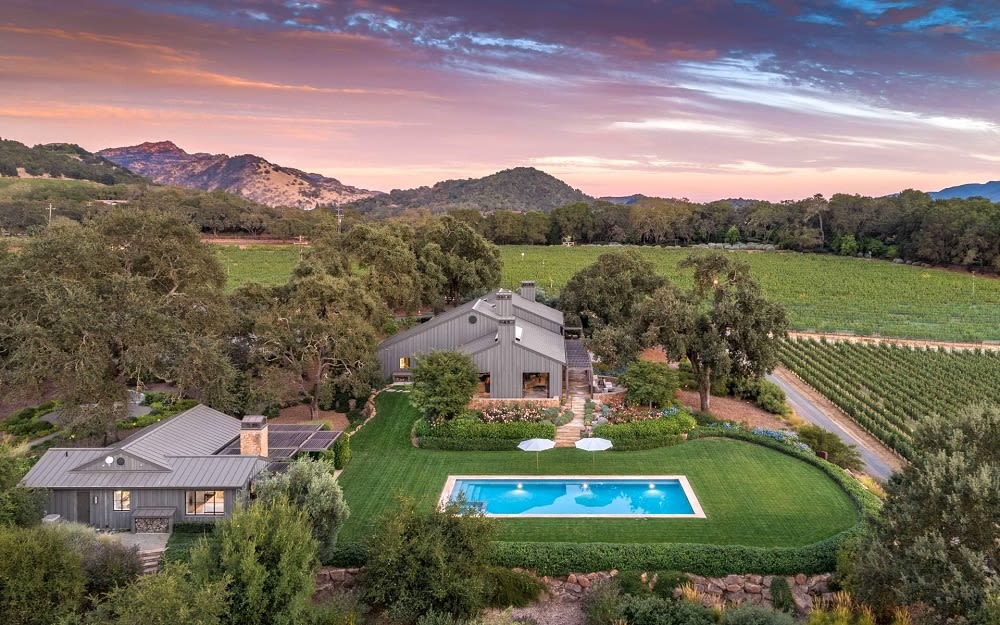 2. Greek Revival
You can expect to see
Greek Revival
homes while searching Sonoma County real estate. This particular architectural style originated in the late 1850s and rapidly became the dominant style of American luxury architecture up until the mid-19th century.
Greek Revival homes typically have front, side-gabled, or hipped roofs, with horizontal board siding and porches. One of the most notable characteristics is the use of classical columns, which can either be square or rounded.
This styling remained popular in Sonoma County until the early 1900s, and you can find several beautiful examples in the Dry Creek Valley.
3. Italianate
Italianate
homes are another motif you can expect to see frequently in Sonoma County. Italianate homes didn't gain popularity in the western states until decades after their heyday in the American east. The inspiration for this style came from 16-century Italian Renaissance architecture, combined with picturesque influences from the farmhouses of the Tuscan countryside.
Traditionally, Italianate homes are characterized by a square or rectangular mass, with decorative detailing, including formal window crowns, cornices, porches, and doorways. In California, this style is often built of redwood, but still with the typical horizontal belt and corner quoins. It began to lose popularity in the 1870s due to financial panic and subsequent depression, but Italianate-inspired cottages still line the streets of Healdsburg.
4. Queen Anne Revival
The name and styling of Queen Anne Revival homes are derived from an English architectural movement. In Sonoma County, the Americanized interpretation of this architectural style makes for a quirky, regional phenomenon.
Queen Anne Revival homes have a few defining characteristics, starting with complex rooflines that feature a fairly steep pitch. Additionally, homes in this style are highly decorative, using a variety of exterior cladding and ornate details. Homes are wood-framed and often painted with as many as five or six different colors to help accentuate the various textures and trimmings that define the style.
5. American Colonial Revival
The American Colonial Revival is one of the most widespread and well-known residential architectural trends in American history. The origins of this style can be traced back to 1876, with peak popularity taking place through the 1940s. Entire neighborhoods in Sonoma County contain homes that borrow from the styling and charm of the American Colonial Revival.

You can recognize American Colonial Revival homes by their symmetrical facade, rectangular shape, and medium pitched, side-gabled roof with narrow eaves. Homes are typically one or two stories and sometimes feature side porches or sunrooms. American Colonial Revival architecture was popular for public buildings and applied common details from British and Dutch Colonial styles. You'll find government offices, post offices, libraries, banks, schools, and churches in Sonoma County that all bear influences from the American Colonial Revival.
6. Craftsman
If you're looking for a simple home with character, then the expansive selection of Craftsman homes in Sonoma County will not disappoint. Craftsman homes can be traced back to the 1860s, but they did not gain popularity until the 1920s and 1930s. The style was developed in response to the extravagant Victorian homes that were popular in the mid-19th century. Instead of dramatic features and grandeur, Craftsman homes focused on simplicity and warmth.

From the outside, Craftsman homes are defined by powerful angles, covered front porches, tapered columns, and overhanging roof eaves. Inside, you'll find exposed ceiling beams, chunky window trim, and wide paneled doors. These homes use natural materials, wide porches, and an inviting layout. When you see the years of upgrades, customization, and love that have been put into craftsman homes, it's no wonder they continue to hold value.
7. American Foursquare
Much like the Craftsman, American Foursquare homes were designed in response to the frivolous aesthetics of the Queen Anne Revival. Seemingly overnight, American Foursquare architecture gained popularity and dominated American residential styling from 1898 to 1908. Within this short window of time, thousands of American Foursquare homes sprung up across the U.S., and a drive through Sonoma County echoes this popularity.

As the name implies, American Foursquare homes are recognizable by their shape, and the structure typically has two stories. Foursquare homes were built using every assortment of available materials, and both brick and wood frames are common. Other identifying features include a front porch with wide stairs, large windows, and a steep roof. The boxy shape allows for greater usable space inside, with the upstairs almost entirely dedicated to bedrooms.
8. Hispanic
Throughout California, Hispanic-inspired architecture was popular from 1915 through the 1930s, beginning with the Panama Pacific Exposition in 1915. The style was built on the same nostalgia that later culminated in the Mission Revival and Spanish Eclectic styles. Homes are primarily built from brick and stucco with tile roofing and are easily recognizable by their use of colonnades, arches, pillars, decorative tile, flooring, and metalwork. Healdsburg is a great place to see these styles in action.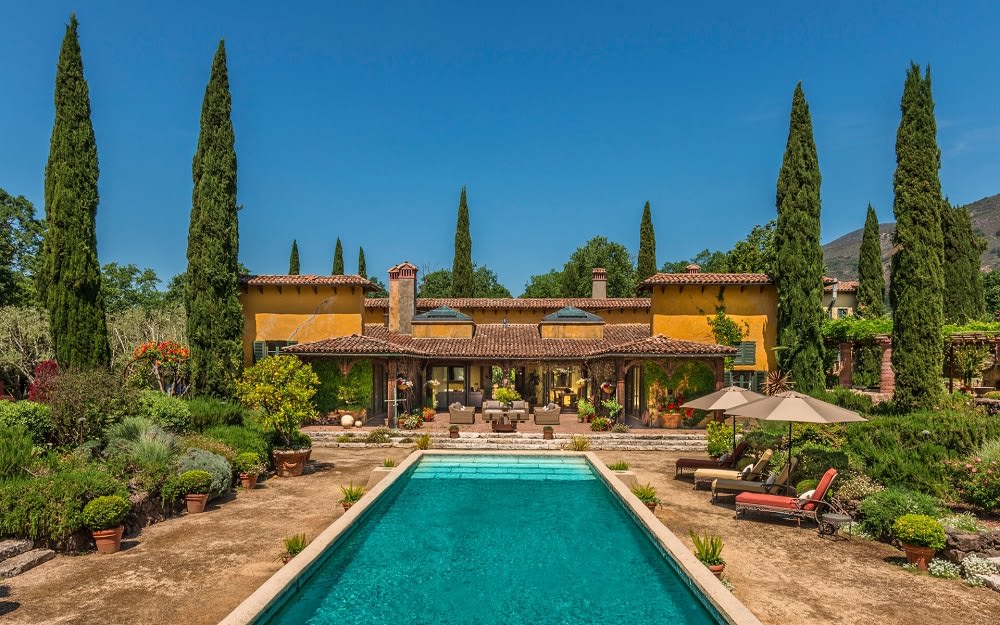 9. California Ranch
California Ranch
architecture originated in the mid-1930s and became a dominant style in American post-war suburbs during the 1950s and 1960s. Like many other mid-century aesthetics, California Ranch is currently making a comeback, with many custom-built homes in Sonoma County reflecting its styling.
California Ranch homes feature an asymmetrical one-story shape with low-pitched roofs. Often considered a subtype of modern design, the style is all about open floor plans and a combined embrace of indoor and outdoor living. Primarily a single-family dwelling, these homes often reflect an "L" or "U" shape, have glass sliding doors, spacious backyards, and two-door garages. The ranch-style emphasizes the casual living of Western households. The three most popular rooflines for California Ranch homes include hipped, cross-gabled, and side-gabled designs. Wood and brick exterior cladding are used interchangeably and in combination.
If you're itching to explore Sonoma County real estate in-depth,
contact Ginger Martin
. As one of the top real estate agents in Napa Valley, Martin has built a deep knowledge of the county's residential trends, resources, and development opportunities.