California's famous Napa Valley is home to some of the state's finest wineries and most extravagant luxury homes
Have you always dreamed of spending your days in the gorgeous California weather, sipping wine on your patio with a view of the sunset over rolling hills? For those who want to get a taste of California's iconic Wine Country, Napa Valley is often the first place that comes to mind. Across this gorgeous and varied region, there are
a number of communities
that each offer unique benefits for homebuyers—all of them full of incredible vineyards, wineries, and restaurants that help to make Napa Valley such a one-of-a-kind living experience.
Napa Valley real estate is known for its wealth of luxury estates and proximity to some of the world's top wineries, providing a one-of-a-kind lifestyle that attracts buyers from around the globe. If you're seeking a home in the iconic Wine Country landscape, we can help you decide which of the many excellent neighborhoods in the region is the right choice for you and your needs.
Napa
Napa is the county seat of Napa County and also the Valley's largest city. This idyllic community is home to nearly 80,000 residents and houses the absolute finest selection of wineries, restaurants, and luxury hotels in the region. Living in Napa often comes with a high price tag, but that's because there's simply no better option to put you right in the center of Wine Country's best offerings.
The first commercial winery in the area was opened in 1859, and the city quickly became an important center of commerce in the region's early history. It has remained a staple for visitors who want an authentic California experience, and have become increasingly popular with luxury homebuyers who appreciate its mix of high-end amenities and laid-back, Wine Country pace of life. Residents can find endless entertainment and inspiration in the city's bustling streets, from exploring the grand murals of the
Rail Arts District
to attending one of the many performances at the ArtDeco-inspired Uptown Theatre.
One of the most fun activities in Napa is taking a ride on the popular Wine Train. This working train hosts events like themed mystery parties, taking riders to tour and attend tastings at some of Napa Valley's best destinations, like the Grgich Hills Winery and Raymond Winery.
In terms of real estate, the city is home to some of the best
Napa Valley luxury estates
that you'll find. You can purchase your own working vineyards or a sprawling ranch, all while being a stone's throw away from the best in luxury living.
Calistoga
Originally founded as a small resort town thanks to its natural geothermal springs, Calistoga has maintained its identity as an escape from the stress and worry of the outside world. Its early resort influences can be seen in its famous mud baths and mineral baths, along with numerous spas that deliver the absolute finest treatments.

Though Calistoga remains a small and rustic city of about 5,000, it has built a reputation as one of Napa's most refined cultural hubs. You can find fine art exhibitions at the Ca'toga Galleria D'Arte, visit the sprawling, Tuscan-style castle and winery, Castello di Amorosa, or spend a night at the French-inspired luxury hotel, The Francis House. New places to explore and exciting experiences are always just around the corner.

Functioning as both a town of working vineyards and luxury attractions, Calistoga brings the best of Napa's two worlds into a unique blend. It's the perfect choice for buyers who want to experience everything the Valley has to offer at a relaxed, stress-free pace.


Oakville
If you're seeking seclusion and privacy, Oakville might be the best Napa neighborhood for you. It's a village of about 71 residents living in homes that are surrounded by extensive vineyards and hillsides, making it one of the Valley's smallest and most exclusive communities.
Don't let its size fool you, though—Oakville is far from boring. It offers the same kind of great amenities you'd expect elsewhere in the Valley, especially when it comes to an assortment of fantastic wineries. A few of the highlights that residents enjoy include the
Robert Mondavi Winery
and Opus One Winery, among many other top-rated establishments.
One of Oakville's most notable features is
Oakville Grocery
, a beloved local business that has been an integral part of life in Wine Country for over a hundred years. Residents love the organic produce, local goods, and fresh meals this shop has on offer, and visitors flock from all over to come and experience this authentic piece of California living for themselves. On sunny days, you can take an afternoon stroll to pick up some great food and feel connected to the city's past.
Oakville is a great place to live for those who are health-conscious, community-minded, and would rather build lifelong connections in a small neighborhood than live in the middle of a bustling city. Though it's small, you definitely shouldn't miss out on what Oakville has in store.
St. Helena
St. Helena is one of Napa Valley's most charming communities and is known as "Napa Valley's Main Street," reflecting its pivotal role in the commerce and culture of the region since its early days. Though smaller than Napa—with only around 6,000 residents—it's bursting with life, energy, and history, making it an exciting option for those seeking a move to Wine Country.
Spend your days tasting wines and exploring Napa Valley's oldest continuously operating winery Beringer Vineyards, enjoying delicious meals at local restaurants like
Goose & Gander
or The Charter Oak Restaurant, and shopping for clothing, gifts, and more along the picturesque storefronts of Downtown St. Helena.
When you've had your fill of city life, take a day to go out and appreciate the natural beauty that surrounds you. You can head to
Robert Louis Stevenson State Park
, where you'll find a five-mile trail that leads up the slope of Mt. St. Helena, guiding you right to a breathtaking view of the San Francisco Bay that's unlike anything you've seen before.
If you want to settle down in a quiet city with beautiful views of the rolling Napa Valley hills, St. Helena's luxury homes are some of the most beautiful estates in the region. This is the perfect community for you if you appreciate the authentic history and character of Wine Country— something its residents have worked to preserve for the enjoyment of future generations.
Rutherford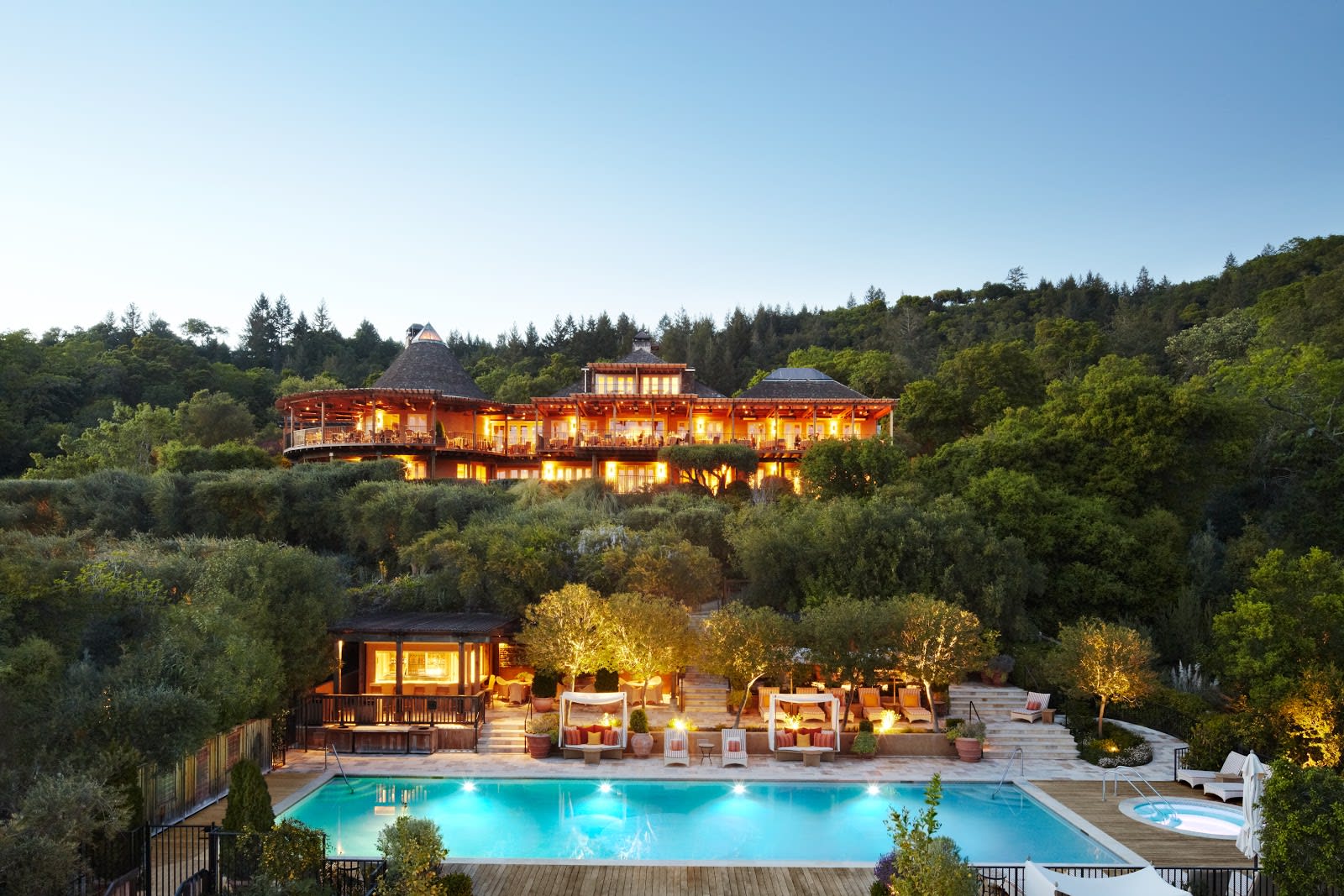 Auberge du Soleil. Photo: VisitNapaValley.com
This small community is known as a place to relax, unwind, and connect with the natural beauty of Napa Valley. It might be the perfect community for you if you're seeking a home that feels like a serene retreat that's an escape from work and life's responsibilities.
One of Rutherford's most well-known institutions is
Auberge du Soleil
, a luxury resort and spa nestled into a lush Napa Valley hillside with great views. Featuring gourmet dining and world-class spa treatments, it's one of the unbeatable highlights of visiting and living in this close-knit community.
If you're searching for a true Napa Valley lifestyle, Rutherford has everything you need and more.
Yountville
You'll find the community of Yountville just a short drive north from Napa, where its small-town charm and world-class amenities draw many visitors. Yountville is said to be where the first Napa Valley vineyard was planted, and its deep Wine Country legacy still shines through. This town prides itself on being walkable and laid-back, encouraging you to go out and explore by foot to see everything it has to offer and encounter friendly neighbors.
Do you have discerning culinary tastes? Yountville may be the perfect place for you. It's home to some of the finest dining establishments on the West Coast, and food-lovers come from far and wide to experience what the city has to offer. Most notably, Yountville is home to famous restaurant
The French Laundry
, which has a rare three-star Michelin rating. Founded by Chef Tom Keller, it's considered to be one of the best restaurants in the world thanks to its incredible cuisine and beautiful ambiance.
Yountville makes a great home for those who want to experience life at their own pace and live alongside those who feel the same way. From the alluring landscape to the high-quality dining and shopping options, this town encourages you to take in and appreciate every moment.
Let Us Help You Find Your Perfect Home
Why wait any longer to find your perfect home? If you want to learn more about one of these excellent Napa Valley communities and discover which one is right for you,
Ginger Martin
is a Napa Valley real estate agent with experience you can trust to help guide this crucial choice. If you're ready to sit back, relax, and enjoy everything Napa Valley has to offer, then get a step closer to living your best Wine Country life in your very own dream home by contacting Ginger and her team today.


*Header Image: Napa Valley. Photo: Visit California