Amp up your dinner party menu with ingredients from these gourmet grocers
California's ample sunshine and temperate weather make it ideal for growing produce, and these gourmet grocery stores specialize in locally-sourced, natural selections. These fine foods are the special ingredients for an extravagant weekend brunch, successful dinner party, or drink after dark. I've compiled a list of can't-miss gourmet grocers that you'll want to add to your frequent shopping list.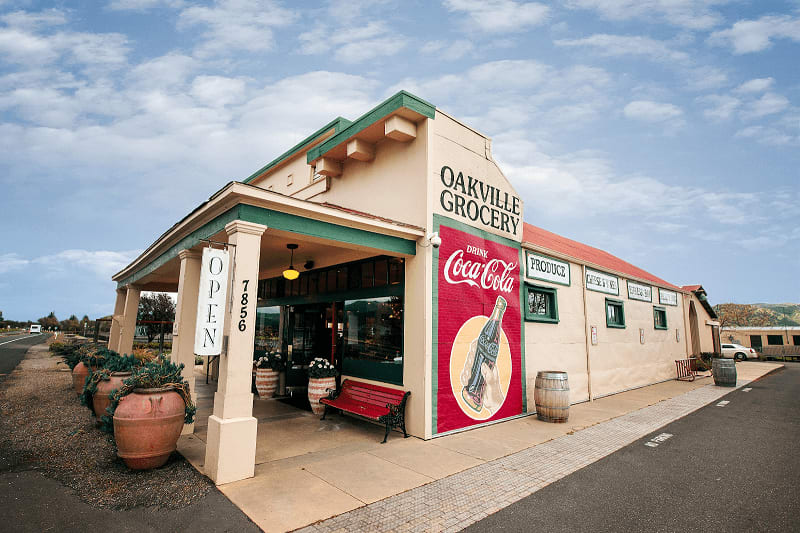 Credit: Visit Napa Valley
Since 1881, Oakville Grocery has been the premier location for exquisite ingredients. The flagship store on St. Helena Highway in Oakville is the oldest continuously operating grocery store in the state. This grocery will be your new favorite shopping destination for a brilliantly curated selection of jams, pickles, teas, spices, and other fine dining accouterments. Its California coast inspired pantry is the perfect combination of bold spices and cold-pressed olive oils for your home.


If you're looking to dress up your kitchen even further, Oakville Grocery also curates an impressive collection of glassware, aprons and tea towels, and sharpened knives to add to your cookhouse. This grocer exceeds expectations, providing stellar customer service and a familiar, welcoming shop that has been a staple in our community since before the turn of the century.


If you're in a pinch and can't make it to the store, Oakville Grocery makes it easy to order your necessities online. Browse its
online shopping catalog
for new acquisitions and longtime favorites and have them delivered to your house.
Oakville Grocery makes entertaining a breeze with its
catering options
as well. With fresh, local ingredients and a chef-created menu that highlights California flavors, its full-service catering options can take the pressure off any occasion. Oakville Grocery catering utilizes a customizable menu that is capable of accommodating dietary restrictions and menu preferences. Wine and beer pairings can be chosen to reflect individual menus, and personalized gift sets can be tailored to your specifications.
If you're hoping to turn your shopping spree into an afternoon outing, head to the Oakville Wine Merchant. Adjacent to the Oakville Grocery, this 150-year old Victorian house is home to both the Napa Wine History Museum and a renowned purveyor of some of the Valley's finest wines. Shop the fruit of Napa Valley's viticulture while fully immersed in history. Wine tasting at the museum can be self-serviced, or you can enjoy a more curated menu of charcuterie and cheeses to pair with Napa Valley's most esteemed wine selections.
In coordination with JCB Collection, Atelier Fine Foods & Catering has become more than a gourmet grocer. Its selections now boast JCB home, fashion, and lifestyle products, as well as a luxurious selection of pantry items, cheeses, and fine wines. Grocery items can be enjoyed while at a JCB tasting room, and general shopping can be done online or in stores at locations throughout Napa Valley, such as Oakville Grocery. Available products include caviar, foie gras, a range of cheeses from hard and dry to soft and fresh, and charcuterie meats and pâté. Atelier also boasts First Growth Coffee, gourmet sweets, and a rich variety of condiments and antipasti to dress up any occasion.
On St. Helena's Main Street, the Napa Valley location of this established grocery is heaven for foodies. At Olivier, everything can be sampled, and once you taste the delightful ingredients, you'll be hard-pressed not to leave with a basket full of delectable goodies. Whether you're looking for gourmet hot cocoa mix, aged balsamic vinegar, or boeuf bourguignon classique entrée base, Olivier has what you need. Its homemade pantry items are delectable and indulgent. Imported French currant jams, tempting Grand Marnier-infused chocolate sauce, and fresh-crushed Meyer lemon extra virgin olive oil are just a few of the ingredients you'll find in this boutique grocery. In addition to its stunning pantry items, Olivier also curates an unbeatable range of kitchen wares, such as pepper mills, cookbooks, cutting boards, and copper cookware. A versatile selection of home goods is also available here, so you can pick up all-natural cleaning supplies and foodie-inspired art while you're doing your grocery shopping.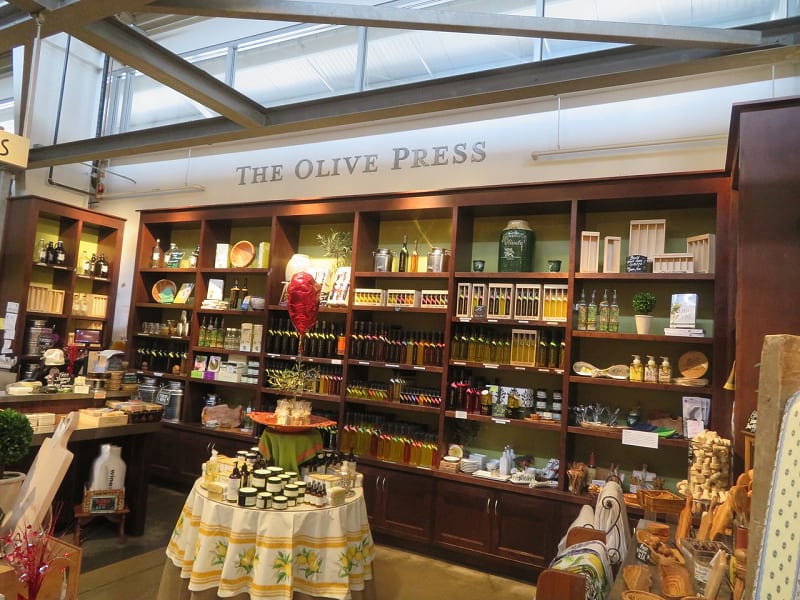 From: Tripadvisor
Since 2001, The Olive Press has been serving the Napa and Sonoma Valley regions with a premier selection of extra virgin olive oils. Whether you're craving Tuscan olive tapenade or searching for the perfect tabletop serving dishes, The Olive Press has curated a delightful range of cooking and serving elements. Mix and match oils and vinegars with its
stackable bottles
, a unique design that is as aesthetically pleasing as it is ergonomically efficient. Other products include glass jarred herbs and spices, stunning acacia wood serveware, and California olive oil hand and foot salves. Its business thrives on ecologically sustainable practices, and its founding principles include a devotion to the integrity of ingredients and care of creation. The Olive Press utilizes traditional milling techniques and only selects the best of its hand-harvested fruits to create its artisanal goods. Since opening, The Olive Press has won
611 awards
—and counting!—so you can rest easy knowing you're cooking with high-quality oils.
On Trancas Street in Napa, this all-inclusive grocery store offers pantry, produce, and frozen foods as well as providing bakery, deli, and florist services. Nob Hill Foods is part of the Raley's Family of Fine Stores, and this California-native company is dedicated to providing fresh and nutritious foods to the Golden State's communities. Making healthier options available to families is its driving mission, and you'll see that reflected in Nob Hill Foods' provisions.
Credit: Ranch Market
Since 1976, this family-owned grocery has been providing Napa Valley with fresh, locally sourced ingredients. Its selection of specialty items changes seasonally, reflecting local needs and availability, and they will gladly deliver groceries within a two-mile radius of their storefronts. Ranch Market additionally operates a deli so that you can pick up a bite to eat before doing your weekly food shopping. ITs deli menu includes cafe favorites like hot pressed paninis and customizable sandwiches alongside a hearty breakfast menu for early risers. Ranch Market has locations in Napa and Yountville, making it simple to find groceries you feel good about.
Whole Foods Market in Napa is located on Bel Aire Plaza, which is home to a few other grocery retailers, making it perfect for your weekly food shopping trip. Whole Foods Market is a nationally recognized establishment that specializes in providing organic foods to the public while supporting sustainable agricultural methods. Originally founded in Austin, Texas, Whole Foods Market has become a well-known supplier of whole, natural ingredients across the nation. Whole Foods Market is so much more than just a market. The Napa location is home to several internal eateries, including Keg & Barrel, a casual setting for enjoying ice-cold beers, and WFM Coffee Bar for that morning espresso pick-me-up. You can squeeze your own orange juice, order custom floral arrangements, and hone your culinary techniques with tips from professionals at its Culinary Center.
A kitchen isn't complete without high-quality protein, and Browns Valley Meat is the Napa Valley go-to destination for a full-service butchery. With custom meat processing, this butchery will carve your meats to your exact needs so that you get only the pieces that you crave. Meat can be vacuum sealed and flash frozen before pick up to preserve the flavors you love. Additionally, this family-owned establishment offers a varied selection of pre-butchered goods so that you can pick up premier ingredients in a pinch. Poultry, pork, lamb, seafood, and beef are popular cuts that these butchers are experts at handling. Grass-fed, all-natural beef products and free-range poultry are staples at Browns Valley Meat and reflect its commitment to natural, superb ingredients.
Trader Joe's is a nationwide favorite that has garnered a cult following for its inventive and incredible grocery items. Locally, Trader Joe's can be found in Bel Aire Plaza in Napa. Despite becoming a national franchise, Trader Joe's maintains its neighborhood market vibe.
Organic produce and food products reign supreme at Trader Joe's. Whether you shop its house label for one-of-a-kind ingredients or reach for another item in its carefully curated inventory, Trader Joe's is dedicated to serving communities with high-quality goods at affordable prices.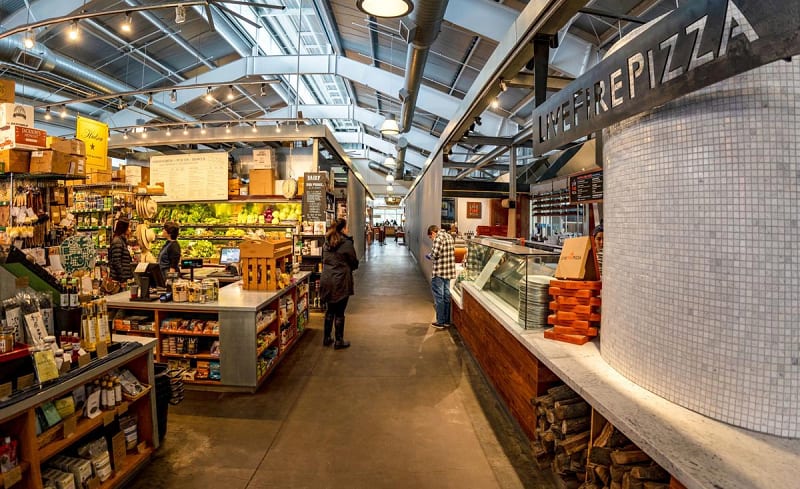 Credit: Napa Valley Register
This indoor-outdoor marketplace is an iconic staple for Napa's Oxbow District. With local food and spirits vendors, an outdoor dining patio, and artisan cafes, Oxbow Public Market makes grocery shopping exciting. Choose signature sweets at Annette's Chocolates, grab a burger at Gott's Roadside, or select the feature ingredients for your next charcuterie board at The Fatted Calf. Committed to natural, organic ingredients, shopping at Oxbow Public Market is a perfect way to prepare for entertaining at home.
If you're curious about finding a piece of Napa Valley real estate that suits your style, don't hesitate to
reach out to me
for more information. You deserve a Napa Valley real estate agent that personalizes your shopping experience so you can find a place you'll love to live.
*Header Image: Napa Valley Register